Pri-MO Events Students Lead Columbia Community in a Night of Celebration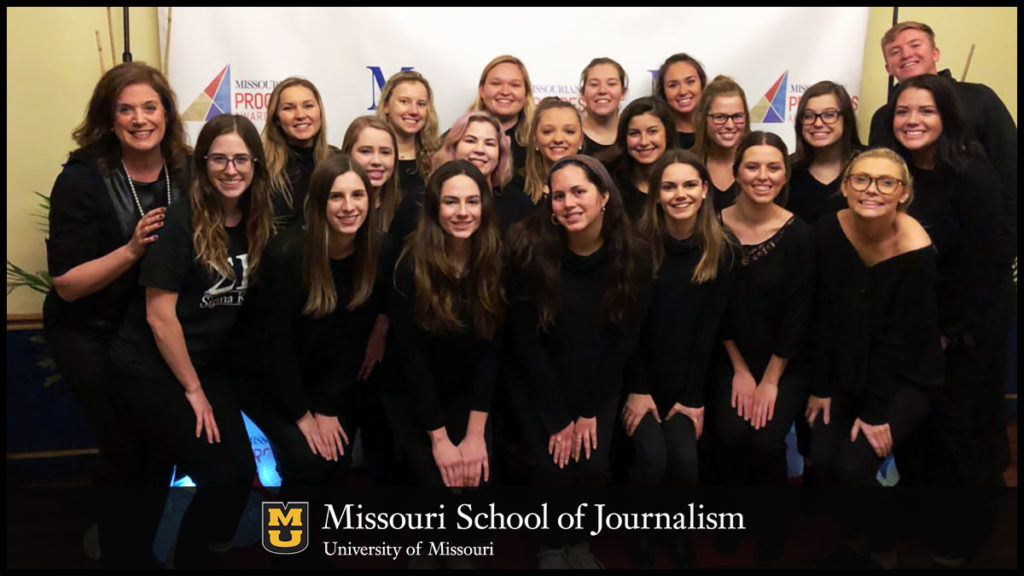 Columbia, Mo. (Dec. 7, 2018) — The Progress Awards, created by the Columbia Missourian, is an event that celebrates active members of the Columbia community and recognizes their embodiment of progress. The Missourian asked the Missouri School of Journalism's student-run events agency, Pri-MO Events, to put on the Progress Awards for the second year. Pri-MO Events is operated through a one-credit hour Public Relations Techniques class with a focus on events and promotion.
Students in the class were split up into groups and assigned different responsibilities for executing the event. The course is run by Melanie Forrest, adjunct professor and School of Journalism engagement and outreach coordinator.
"The Progress Awards was a tremendous success with overflow attendance and an enthusiastic crowd supporting paragons in our community," said Forrest.
"The student-run Pri-MO Events Agency warmed up the crowd with hues of amber lighting and tranquil Zen décor executing an innovative theme, "Progress in Growth," she continued.
Jordan Helterbrand, a member of Pri-MO Events' digital strategy team, communicated with the Missourian to create on-brand social media content, designed the event program and RSVP form, and managed the Facebook Live feed and time lapse of the event.
"It was all hands on deck," said Helterbrand. "At the end of the day we all pitched in to do these honors justice and execute an amazing event for the community."
Community members were recognized for their contribution to progress in 10 different categories, some of which include education, health care and social justice.
"I made a lot of new friends and also collaborated and networked with various Columbia organizations through this experience," said Helterbrand.
However, the student's favorite aspect of this event was getting to work for a real-life client.
Brooke Emery, another Pri-MO events student, enjoyed the work that she did on the production team. She also served as the account executive for the digital strategy team in the class. Emery got the opportunity to prepare the final proposal for the client, which she noted as her favorite part of planning the event. She also loved setting up the day of the event and seeing Pri-MO's hard work come to life.
"When we were done, the venue took my breath away and I was so proud of all that we accomplished," said Emery.
The entire team of students who aided in planning and executing the event included Beth Beasley, Caroline Brown, Hannah Bryner, Jen Butler, Ariaina Catalano, Brooke Emery, Sophie Hall, Amy Hanks, Hailey Hauldren, Jordan Helterbrand, Callie Hines, Erica Jones, Connor Lynch, Faith Power, Sarah Ranft Doody, Liz Ronecker, Allison Sousan, Rachel Thompson, Jordan Young and Alexis Zilla.
Updated: November 6, 2020
Related Stories
Expand All
Collapse All
---