Fox Sports and Missouri School of Journalism Partner to Develop Campaign to Promote FIFA World Cup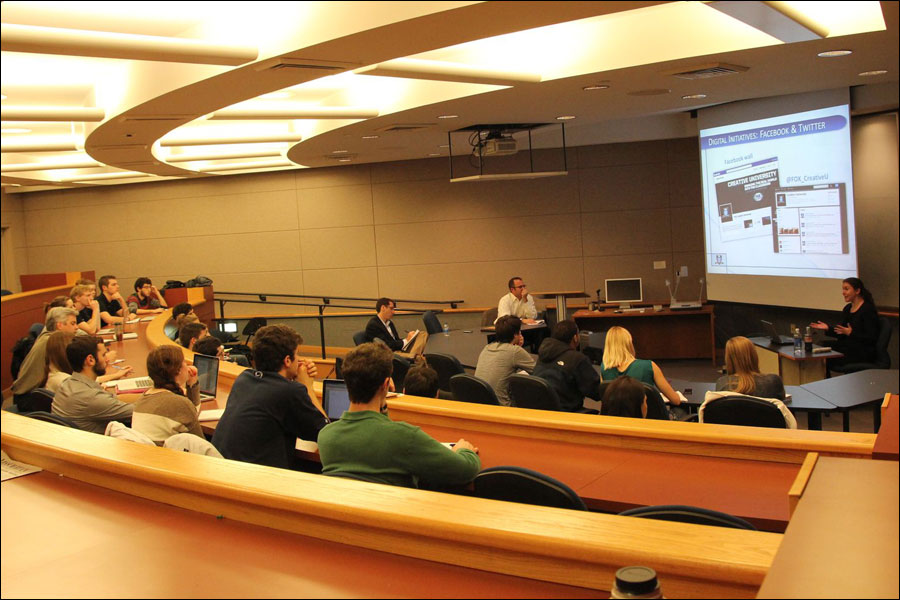 AdZou Students Help the Network Solve Sports-Related Business Challenges
Columbia, Mo. (April 22, 2013) — Fox Sports will broadcast the FIFA World Cup – the most popular sporting event in the world – starting in 2015. And some Missouri School of Journalism strategic communication students will have a hand in how Fox promotes its broadcasts.
The campaign development is part of Fox Sports' Creative University, a nationwide program that Fox Sports developed to put academic minds to work solving sports-related business challenges and to bring a fresh, young perspective to the network's marketing.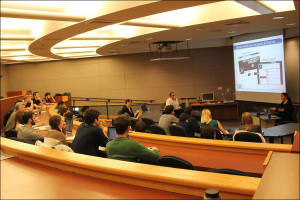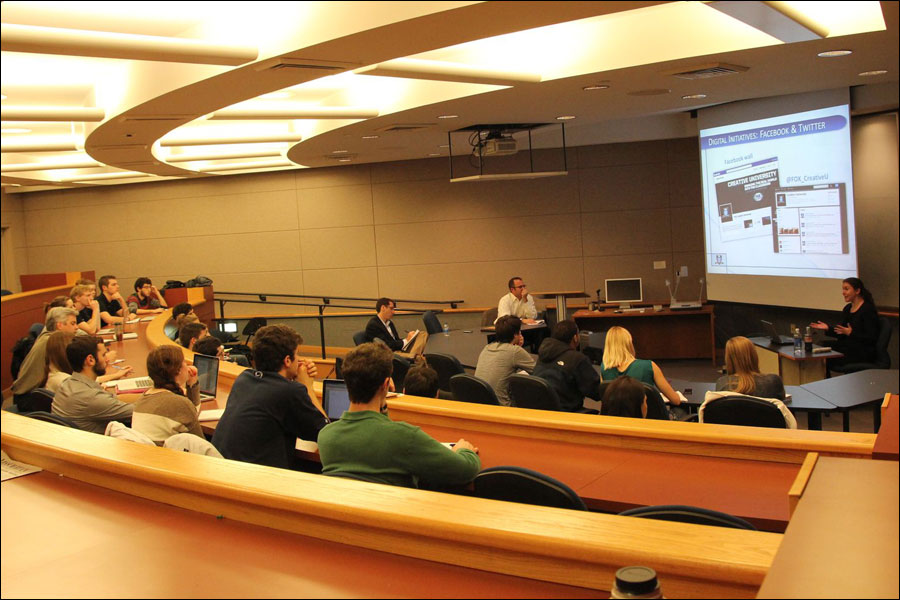 "The program benefits the students and brings new ideas to our marketing," said David Pokorny, director of marketing for Fox Sports Midwest.
Missouri, in its third year of Creative University, is one of 15 schools selected by Fox. At each university a class partners with a Fox Sports business to address a marketing, research, technology or strategy challenge. Their creative work and plans are potentially produced by TV professionals and then aired to millions.
AdZou is a full-service agency capstone experience that exemplifies the Missouri Method of learning by doing.  This semester, Fox has deployed four competing teams of AdZou students to develop a strategy for engaging soccer fans and attracting viewers to their coverage of the 2015 Women's World Cup in Canada.  Businesses like Fox support the learning opportunity for students and in exchange receive fresh perspectives and fully-integrated, high-quality campaigns at an extraordinarily affordable fee.
Assistant professors Jamie Flink and Jon Stemmle serve as coordinators for AdZou. Adjunct professor Scott Fuenfhausen's class is working on the Fox Sports campaign this semester.
To kick-off the project the students met with Fox executives to get their assignment and ask questions about the project.
"This current group of students immediately impressed me," said Pokorny. "They asked insightful questions about the Women's World Cup. We're confident that one or more of their campaigns will be viable for us to use on-air."
Students in the class are thrilled to have involvement in such a big initiative for Fox.
"It's one thing to be able to work on something for your school; it's another to work for a world-renowned company like Fox," said senior Kara Cannelis.
This capstone assignment is an example of the Missouri Method, where students get hands-on experience with real client projects.
Throughout the semester the students have made several presentations of their progress, fostering an opportunity to build relationships with the Fox executives.
"We benefit because we get to display all of our knowledge and get feedback from a real client," Cannelis said.
The work also creates a tangible product for the students' portfolio. In 2011, Fox Sports Midwest used one of the Missouri Journalism capstone campaigns to promote Big 12 football on Fox.
Since the program started, 18 students from Creative University have been hired on by Fox upon graduation in full-time or internship roles, including one from Missouri.
"They have been so helpful in pointing us to job boards and invited all of the team members on LinkedIn to stay in touch," Cannelis said.
The students will make their final presentation to Fox executives on May 14, with the hopes that their ideas will be the ones brought to life.
Updated: July 15, 2020
Related Stories
Expand All
Collapse All
---