Campaign Group Develops 'Team STL' Branding Campaign for Fox Sports
Strategic Communication Students Generate Concepts, Network to Produce Them in Late Summer
By Allie Steiner, BJ '11
Fox Sports Midwest
St. Louis (May 27, 2014) — Missouri School of Journalism strategic communication students are helping Fox Sports Midwest develop a new branding campaign to promote the St. Louis-based sports television network.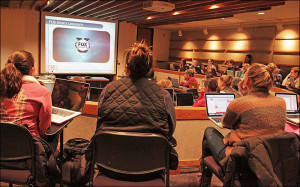 This is the fourth year strategic communication students were selected to create a campaign for Fox Sports. The partnership is part of Fox Sports University, a nationwide program that provides the practical element to learning whereby students create concepts for Fox Sports businesses.
This year, four teams of students in adjunct professor Scott Fuenfhausen's capstone class were tasked with creating a unique branding campaign for Fox Sports Midwest by bringing the hashtag #TeamSTL to life beyond social media. #TeamSTL was created by the St. Louis Cardinals, St. Louis Blues and St. Louis Rams last year, showcasing the support each team has for each other.
As the television home of Cardinals and Blues games as well as Rams programming, Fox Sports Midwest is in the unique position to bring St. Louis' sports fans and teams together.
"The hashtag and sentiment embodies what we want our Fox Sports Midwest brand to be – one that expresses pride in our teams and community and camaraderie with our partners and viewers," said David Pokorny, Fox Sports Midwest marketing director.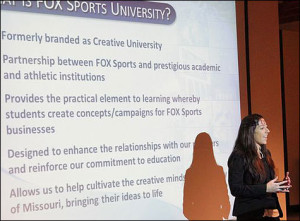 The three teams and Fox Sports Midwest wanted the students to develop an ongoing marketing campaign that encourages fans to embrace and use the #TeamSTL all year long, showing their St. Louis sports pride.
"Bringing all three teams together is really a challenge," Fuenfhausen said. "You're now working not only with the premiere Fox Sports brand but also the Cardinals, Blues and Rams, who all have vested interests in what we're doing. The students really had to think strategically."
Throughout the semester representatives from the Cardinals, Rams, Blues and Fox Sports Midwest attended class sessions and were involved in the creative process, fostering an opportunity for the students to build relationships with both team and network executives.
"I've always wanted to do advertising, and Fox Sports University has given me the opportunity to put that into practice," student Matt Eisenbath said. "The Fox Sports executives have given us feedback that tells us where we need to grow."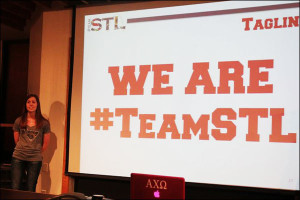 The program provides real-world experience that complements the educational process. At the same time, the work creates a tangible product for the students' portfolios.
"Every year it gets better. I had students emailing me, asking 'Can I get in to the class'?" Fuenfhausen said.
The students received their assignment from Fox in January. They outlined initial ideas for Fox Sports, Rams, Cardinals and Blues executives in March and continued to receive feedback throughout the semester that helped shape their ideas. On May 13, the teams presented their ideas to the executives and also submitted campaign booklets that included in-depth research from focus groups, media plans and creative mock-ups.
"When you're still in college and you're producing work that will be developed – this is classic on-the-job training with a premiere brand," Fuenfhausen said.
One of the students, May 2014 graduate Molly Carlino, is interested in pursuing a career in sports marketing.
"I got to combine my loves of sports and video and create spots that engaged and elicited emotional response with sports fans," Carlino said. "It was nice to see what you want to do in the future play out in a real campaign."
The winner was the campaign with the theme We Are Team STL. Paige Ebert, Kelly Gallagher, Maggie Omastiak, Anna Petrow, Sydney Trepel and Courtney Weissman developed the campaign.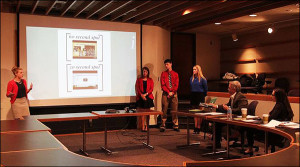 "All four teams presented outstanding ideas that we could envision developing into a campaign," said Geoff Goldman, Fox Sports Midwest media relations director. "We Are Team STL captures the spirit of the Rams, Cardinals and Blues working together and the idea that fans are a part of this team, this community."
Fox Sports plans to begin production on the concept late this summer, and the students will be invited to be part of the process. The television promos are likely to air in September.
The Missouri School of Journalism was one of 18 schools chosen to participate in the program this year. Since the program started, 25 students from Fox Sports University have been hired by Fox upon graduation in full-time or internship roles, including some from Missouri.
Updated: July 27, 2020
Related Stories
Expand All
Collapse All
---