Sandy Kornberg, BJ '64, Receives International Medal of Merit
Columbia, Mo. (May 6, 2010) — Sandy Kornberg, BJ '64, will receive the Medal of Merit from the International Advertising Association (IAA) at a gala dinner to be held in the Kremlin during the organization's upcoming World Congress in Moscow.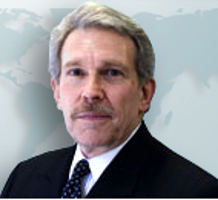 Established in the 1960s, the IAA Medal for Merit is awarded to recognize outstanding service to the Association or to international advertising – and granted to only a select few every two years.
Kornberg is being recognized because of his steadfast counsel to the World Service Center and World Board and the outstanding benefits of these contributions, according to Pascal D. Staub, a member of IAA's executive committee.
Kornberg's 30-year career in advertising took him to 22 countries, among them Japan, Hong Kong, Philippines, China, Korea, and France, Germany, Belgium and as well as the Czech Republic.
In 2005 he created the Missouri School of Journalism's study abroad program in Prague, Czech Republic, during which strategic communication students, working with students from Charles University, develop an integrated marketing communications and branding campaign. More than 28 participating students' projects have included one for the tourism and cultural affairs department of the Czech government; a film distribution company called Blue Sky Films, which handled the Czech release of the films "Penelope" and "Traffic;" and for the past three years, with the global advertising agency, McCann Erickson, and one of its global clients, Nestlé.
The Prague program is one of 20 journalism study abroad programs in 17 countries, but it is the only one specific to a particular major, in this case, strategic communication.
Updated: May 11, 2020
Related Stories
Expand All
Collapse All
---