Missouri Student-Athletes Honor Strategic Communication Professor as Most Inspiring Teacher
Columbia, Mo. (March 20, 2007) — Cynthia Frisby, associate professor of strategic communication, has been named one of the four Most Inspiring Professors on campus by the University of Missouri-Columbia Student-Athlete Advisory Council.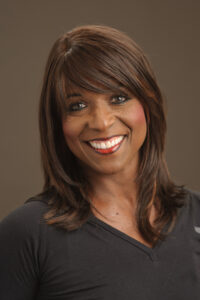 Student-athletes nominate professors for the annual award to recognize their outstanding work in teaching and advising. Many student-athletes choose to nominate teachers who have inspired them personally or who have offered extra help outside of class.
"I can think of no one who better exemplifies an inspiring teacher than Dr. Cynthia Frisby," said Margaret Duffy, chair of strategic communication. "Students are challenged to do their best, and they consistently rise to challenges thanks to the leadership, enthusiasm and genuine caring that characterizes Dr. Frisby's teaching."
Frisby said that during her nine years at the Missouri School of Journalism, student-athletes often have been among the most impressive students in her classes.
"You'd think they'd be the ones who would come to you saying, 'I can't take this test. I can't complete this assignment,'" Frisby said. "But, they're some of the hardest workers. They're definitely students first, athletes second."
Frisby has had the opportunity to learn more about the challenges student-athletes face as an honorary coach for several Missouri athletic teams, including gymnastics and men's and women's basketball. Through the program, which takes faculty members behind the scenes to observe student-athlete training and study hall sessions, Frisby said she came to realize how hard student-athletes work to coordinate school, competition and training schedules.
"If they say I inspire them, they definitely inspire me," Frisby said.
While it takes both time and talent to balance the demands of Big 12 competition with the academic rigor of the Missouri School of Journalism, Frisby said, many student-athletes are able to excel in both areas.
"Their schedules are demanding, but they learn that you get back what you give," Frisby said. "Know that if you work hard, your professors will, too."
The Most Inspiring Professor Award is one of many Frisby has received for her teaching and advising. In 2002, she received the William T. Kemper Fellowship for Teaching Excellence, the University's highest teaching honor. At the 2004 Martin Luther King Jr. Awards Convocation, Stephens College in Columbia also recognized Frisby as one of three individuals embodying King's principles and human values.
Updated: April 16, 2020
Related Stories
Expand All
Collapse All
---