Tweets Initiate Conversation Between Strategic Communication Students and Ford Motor Company Executives
Columbia, Mo. (May 4, 2010) — Technology and new media in the classroom recently brought together a group of strategic communication students and executives from Ford Motor Company in Detroit.
Students in the Management of Strategic Communication course study a brand for the semester, with an emphasis on the consumer touch points. The class is divided into four teams, and each team presents on their specific topic over the course of the semester. In the end, each team makes recommendations on what that brand is doing well and what could it could be doing better. A creative brief for the brand that is consistent with the recommendations is also developed.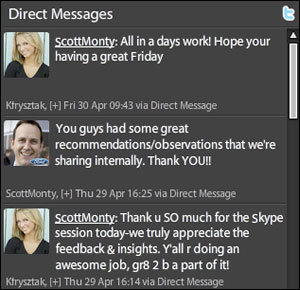 The class picked the Ford Focus from a list of brands provided at the beginning of the spring semester. Ford will be launching a new model in 2012 and will be targeting it to "millennials," a group of roughly 80 million people born between 1980 and 1995. The students were naturally interested given that they are the audience. Kaitlyn Frysztak, one of the students on the non-traditional media team, began to Twitter about what they were doing.
Scott Monty, Ford's manager of digital and multi-media communications, began to follow Frysztak and have a conversation. When course instructor Barbara Ifshin learned of the discussions, she contacted Monty and invited him to participate in the class. Monty eagerly accepted, noting, "We're listening more than ever. Social media and Web-based tools allow us to connect with our key stakeholders and humanize the company at the same time, and any time we have a chance to learn more about the needs and wants of our customers and apply it to the great new products that we're making, we do."
Ifshin sent Monty the recommendations and creative briefs from all four teams and set aside the April 29 class period to bring him in via Skype. Monty brought two colleagues in as well: Mark Schirmer, manager of Global Product Communications, and Kenneth Dallia, marketing manager for Ford Focus. The Ford executives had read the students' recommendations and engaged with them in a 75-minute discussion. At the end, Monty asked if they could share the reports with Ford's advertising team given the value of the students' insights.
In an e-mail to Ifshin after the call, Dallia noted, "It is always great for us to get unfiltered feedback on our marketing and PR activities. I am particularly intrigued in how brand perceptions are created and maintained…finding new ways to integrate social media into the process is one of our most critical challenges."
Frysztak said that this was an eye-opening and amazing experience. "Our team joked about getting in contact with someone on Ford's end, and we felt it somewhat of a lost cause trying to contact the Head of Social Media. Little did we know that Ford is an excellent company when it comes to social media engagement, and Scott was more than willing to answer any questions we had," she said.
"This was a fantastic opportunity for our students to engage in a professional conversation about a brand, with brand executives who are struggling with how to reposition an existing brand to a young audience and how to blend new media with the old into a truly integrated communications effort," said Ifshin, an associate professor strategic communication.
Updated: May 11, 2020
Related Stories
Expand All
Collapse All
---