Fox Sports Midwest Airs TV Commercial Idea Created by AdZou Students
The 'We Are Team STL' Spot Features Cardinal, Blues and Rams Players, Announcers
By Caroline Murray
Columbia, Mo. (Sept. 19, 2014) — Television advertisements featuring the St. Louis Cardinals, Blues and Rams developed by strategic communication students will premiere on Fox Sports Midwest on Friday, Sept. 19.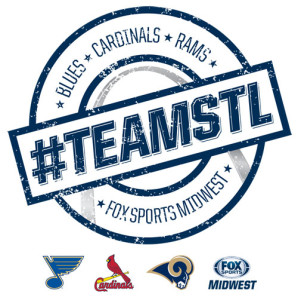 Missouri School of Journalism students Paige Ebert, Kelly Gallagher, Maggie Omastiak, Anna Petrow, Sydney Trepel and Courtney Weissman, all BJ '14, crafted the idea for the spot as part of the Fox Sports University program, a partnership between Fox Sports and academic institutions around the country. In the spring 2014 semester, the AdZou students developed the campaign as part of Adjunct Instructor Scott Fuenfhausen's capstone class, and they pitched their ideas in competition with three other teams from the course. Fox Sports Midwest executives selected the winning campaign in May.
Over the summer Fox Sports Midwest, with input from the Cardinals, Blues and Rams, refined the creative concept and developed plans for executing it. An advertising and production agency, under the direction of Fox Sports Midwest, shot and edited the spots in September.
In the television spots, Cardinals, Blues and Rams players and Fox Sports Midwest announcers express their passion for playing in, and contributing to, the region.
"The Mizzou students in the Fox Sports University program created a campaign where the players and TV announcers speak from their hearts and their personal passion is evident," said David Pokorny, marketing director of Fox Sports Midwest. "You see that they want the best for St. Louis."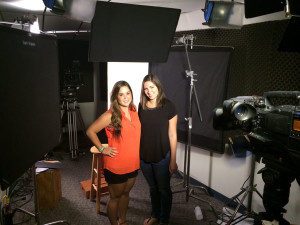 Weissman and her teammate Trepel took part in the shoot with the Cardinals. Over the course of the five-hour shoot, Trepel and Weissman met Fox Sports executives, advertising agency representatives, producers and even a Cardinals player.
"One of the highlights was getting introduced to Matt Holliday and shaking his hand," Weissman said.
Neither Trepel nor Weissman had ever been to a television shoot before, and they both said the shoot was a great learning experience.
"It's incredible how much work goes on behind the scenes before the shoot even begins that you don't realize until you actually see it," Trepel said. "It was also interesting how, especially with sports, plans for the shoot could change in a matter of minutes."
The students' campaign, "We Are Team STL," expands the existing hashtag #TeamSTL beyond social media. #TeamSTL was created by the St. Louis Cardinals, Blues and Rams in 2013 as a way for the teams to showcase support for one another, and soon fans also embraced the hashtag as a way to show their pride in St. Louis sports and the community.
Both Trepel and Weissman said creating the campaign was an experience that helped them prepare for "the real world."
"Having the opportunity to be so hands-on with something beyond the normal classroom environment was incredibly eye-opening and so much more than I could have expected," Trepel said.
In addition to airing on television, the ad and other behind-the-scenes content will also be available for viewing on the Fox Sports Midwest website. 

Updated: July 30, 2020
Related Stories
Expand All
Collapse All
---