Athlead student team wins Fox Sports University challenge after being tasked with getting casual Fox viewer interested in boxing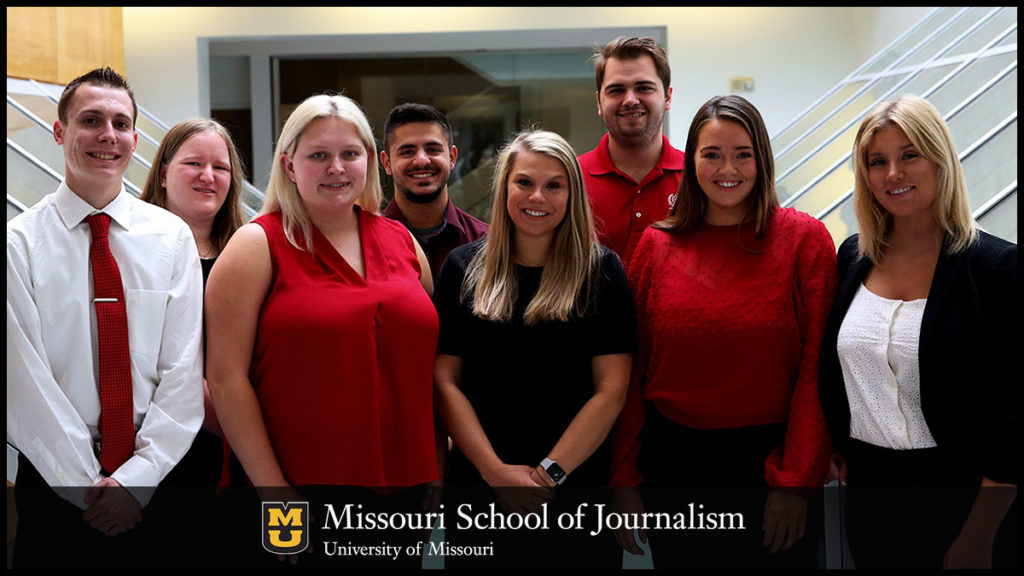 Competing in the Fox Sports University challenge, Team Athlead quickly recognized the need to reach their target audience on multiple forms of media throughout the day and created their winning campaign around that objective.
Though challenging, project provided creative freedom and hands-on learning for students.
By Jerry Duggan
Strategic Communication Student
Columbia, Mo. (Sept. 19, 2019) — When the four 2018-19 AdZou teams representing Fox Sports learned the project for their strategic communication capstone would involve professional boxing, they were a bit intimidated.
Although the mission to develop strategies to get the casual Fox viewer interested in the Premier Boxing Champions series made sense since it was a new Fox Sports property, for most of the 32 students working on the campaign the client ask required a major learning curve.
Kristyna Kresic (MA '20), who served as an account planner/researcher for team Eight Count, said she came into the project with a limited knowledge of boxing.
"Not only did I need to research trends in the industry, but I also needed to understand what boxing was at a base level and what differentiated Premier Boxing Champions from its competition," she said.
The three other teams working on campaigns as part of the Fox Sports University program were Athlead, which won the challenge, Southpaw and Ringside Promotion.
"The goal of our work was to reach the casual viewer who doesn't already know a whole lot about boxing," said Christine Kelly (BJ '19), graphic designer for the winning team, Athlead. "While this was very challenging, it also gave us a lot of freedom to take the project in a number of different directions from a creative standpoint."
The Fox Sports capstone was led by instructor Scott Fuenfhausen, an adjunct faculty member at the Missouri School of Journalism, who also teaches marketing and advertising at the Columbia Area Career Center. He has led an AdZou team each year for the past 12 years, and has particularly enjoyed working with Fox Sports because it is such a well-known client.
"Everyone is always really excited and maybe a little nervous at the beginning, but ultimately, they want to do high quality work because Fox is such a recognizable brand," he said.
Primary and secondary research conducted by the teams showed that in order to connect with the busy young consumer that Fox desired to reach, they would need to employ strategies to reach the target audience on multiple forms of media throughout the day. Athlead recognized this need and created their campaign around it.
This approach, according to Fuenfhausen, was what ultimately separated the work of Athlead from that of the other teams. "The team walked Fox through a day in the life of the target profile in a way I don't think Fox had really seen before," he said. "The group was able to demonstrate how all aspects of their campaign, be it the digital strategy, or the print ad, really touch the target profile throughout their day and make a lasting impact on the consumer."
After putting all aspects of the campaign together, company representatives flew to Columbia, Missouri, to see what the teams put together. Fox came away quite impressed with team Athlead's work.
"This campaign had an overall wide reach with organic executions," Fox executives said in an official statement about Athlead. "We also appreciated the creativity in their presentation format – we liked the way they walked us through a day in the life of a target consumer."
Meet the teams
The Athlead team was made up of Savannah Bernard, account executive; Nicholas Gianacakos, account planner; Megan Schmidt, copywriter; Sara Russo, digital strategist; Christine Kelly, graphic designer; Kody Block, media planner; Derek Rios, public relations; and Randi Bass, videographer.
The Eight Count team consisted of Joshua Goodman, account executive; Kristyna Kresic, account planner; Caleb Fenner, copywriter; Jake Meister, digital strategist; Jack Bizar, graphic designer; Ellie Telander, media planner; Allison Dangos, public relations; and Samuel Maxfield, videographer.
The Southpaw team members were Rylee Bartels, account executive; Sydney Vander Veen, account planner; Brian Consiglio, copywriter; Chanel Smith, digital strategist; Hannah Niesen, graphic designer; Riley Sents, media planner; Alexander Weinstock, public relations; and Cole Locascio, videographer.
Ringside Promotions was made up of Colin MacGregor, account executive; Nikki McVicker, account planner; Drew Bradley, copywriter; Madeline Rosenow, digital strategist; Andrew Zoldan, graphic designer; Caroline Edwards, media planner; Halie Wildhaber, public relations; and Maddy Reardon, videographer.
About AdZou
AdZou is based on the "Missouri Method" of learning by doing. Directed by public relations, advertising and marketing professionals, graduating seniors work in small teams to bring fresh perspectives to their research-based campaigns for real fee-based companies or organizations.
Updated: November 10, 2020
Related Stories
Expand All
Collapse All
---