New Harte Teaching Fellow Shares Information Graphics Expertise with Missouri Journalism Students
Columbia, Mo. (March 8, 2007) — Nearly 22 years after graduating from Temple University, John Duchneskie has returned to the classroom. This time, however, he is the one doing the teaching.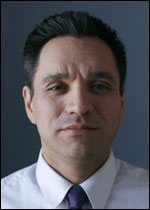 Duchneskie, the graphics editor of the Philadelphia (Penn.) Inquirer, has taken a leave of absence from the nation's 11th-largest paper to become the first Harte Information Graphics Teaching Fellow at the Missouri School of Journalism. At the Inquirer, Duchneskie supervises five news artists who create maps, diagrams, charts and other graphics that tell important stories visually.
The Harte Teaching Fellowship was established to give information graphics professionals a taste of teaching while still working in a busy newsroom. In this position, Duchneskie teaches "Information Graphics," a course that shows newspaper journalism students how various graphics can help explain the news accurately and quickly. He also serves as graphics editor of the Columbia Missourian, a community newspaper that functions as a working laboratory for Missouri Journalism students. In keeping with the School's traditional "Missouri Method" of hands-on journalism training, the students in Duchneskie's class design many of the information graphics that appear with stories in the Missourian.
"John is a very talented graphics editor, and he brings that skill and experience here to the benefit of our students," said Reuben Stern, managing editor of the Missourian.
Missouri is one of the few journalism schools in the country offering specific instruction in information graphics, especially in a community newsroom environment and under the supervision of a professional graphics editor, Stern said.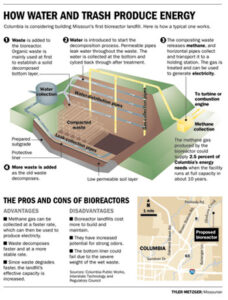 "It's an unparalleled graphics experience for our students and a wonderful opportunity for the graphics editors who come here," Stern said.
Through relationships with Missouri Journalism faculty members, Harte Fellows will have the opportunity to advance their knowledge of best practices in journalism while learning more about the role of the journalism educator, Stern said.
Duchneskie said his goal is to teach students that information graphics are an increasingly important form of storytelling. The best information graphics, he said, show readers key details in a clear, immediate way, using "a big picture and a few words."
"You really start to look at the world differently once it's your job to present things visually," Duchneskie said.
One of the most important lessons Duchneskie hopes to impart is that good information graphics require good reporting.
"If you're trying to explain a process, you've really got to know it," Duchneskie said. "It takes all the skills of a journalist and a lot of technical know-how."
So, before Duchneskie's students sit down at the computer to design an information graphic, they often find themselves in the field, researching and interviewing side-by-side with Missourian reporters. For instance, a student designing a graphic about a proposed landfill in the Columbia area recently had to consult several different sources to learn the intricacies of bioreactor landfill processes, which use water to decompose garbage and create energy.
Duchneskie can draw on his two decades of experience with the Inquirer as he helps students learn how to gather the information they need to create successful graphics. He began his career there as an editorial assistant immediately after graduating from Temple. Duchneskie eventually became a business news researcher and compiled daily tables of stock market information.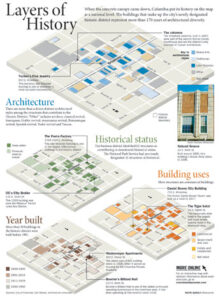 Duchneskie jumped at the chance to receive design training on an early version of the Macintosh computer, and he found himself creating more complex financial graphics. Over time, Duchneskie shifted from the business news department into the news art department, first as a graphic artist and later as a presentation editor. Since 2003, he has been graphics editor.
While making the transition to teaching has been rewarding, Duchneskie said, it has required long hours of pouring over user manuals and lesson plans.
"I've had to go back and refocus on what I do and how I do it so that I can help my students learn," Duchneskie said.
The fellowship is funded by the Houston Harte Chair in Journalism, which is held by Judy Bolch. Bolch arrived at the journalism school in 1997 from The (Raleigh, N.C.) News & Observer, where she was a managing editor. The family of Houston Harte, BJ '15, established the chair in his honor. Harte bought his first newspaper while still a student at the Missouri School of Journalism. At his death, he was chairman of the executive committee of Harte-Hanks Newspapers, Inc., which owned 19 newspapers and one television station. Harte was co-founder of Harte-Hanks Newspapers.
In addition to sponsoring the new Harte Infographics Teaching Fellowship, the Harte Chair also has sponsored the information graphics editor position at the Missourian since 1998. James Bennett, who is now assistant managing editor for presentation at the Bakersfield Californian, and Stern both have served as information graphics editor. The decision to fund the new fellowship and the editorship was clear, Bolch said.
"The graphics editor plays one of the most important roles on a modern newspaper," Bolch said.
As the Harte Chair, Bolch serves as a teaching editor at the Missourian. She works with students, sharing her newspaper expertise, knowledge of new media and talents as a writing coach.
Updated: April 16, 2020
Related Stories
Expand All
Collapse All
---