Journalism Graduate Students Create Interactive Election-Tracking Map
The Programming Skills Were Learned Through a Weekend Workshop on Data Journalism
By Rebecca Dell
Columbia, Mo. (Nov. 14, 2014) — Missouri School of Journalism graduate students Travis Hartman, Roman Kolgushev and James Gordon created an interactive map of statewide amendment issues and races for ColumbiaMissourian.com for the midterm elections.
The team spent three weeks developing the map, which updated the numbers with the most up-to-date election results when the page was refreshed.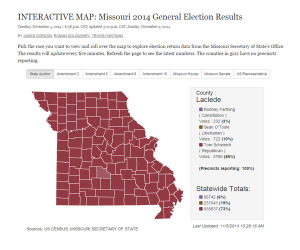 Gordon wrote a script that would obtain and organize the election data from the Missouri Secretary of State's website, which was updated every five minutes. Hartman converted political maps of Missouri into an online format that would allow him to manipulate each county or district based on voting outcomes. The team then wrote a program that would add a color to each county or district depending on the vote outcome. The program also totaled the votes in each county or district and calculated the winning and losing percentages.
"The map does what great journalism should do: Take the complex and present it in simple, accessible ways," said Tom Warhover, the Missourian's executive editor.
Hartman, BJ '99, holds a degree in photojournalism and is focusing his master's work on interactive graphics.
Gordon, with a background in business reporting and political technology, is focusing on investigative reporting using data as a reporting tool and using interactive Web content for storytelling.
The students learned the skills needed to create the interactive map in a weekend data journalism workshop taught by The Wall Street Journal's Chris Canipe, MA '10, an interactive graphics reporter. Mike Jenner, the Houston Harte Chair in Journalism, developed the workshop concept.
A new class, Advanced Data Journalism, will be offered on an ongoing basis in future semesters. It will teach students how to code their own programs for cleaning data or retrieving it from websites. Students will also learn how to build apps to allow people to explore data for themselves. The course will complement the new data journalism model for graduate students as well as reporting classes for undergraduates.
Updated: July 31, 2020
Related Stories
Expand All
Collapse All
---