Journalism Student Designers Win 34 Awards in National Contest
Columbia, Mo. (May 6, 2009) — Students from the Missouri School of Journalism recently won 34 awards at the 21th annual College News Design Contest, with the top prize, Daily Designer of the Year, going to master's student Kristin Kellogg. She won a $1,000 prize from the Society for News Design.
"The students who won represent the best of what's happening in visual journalism at schools around the country," said Joy Mayer, assistant professor of print and digital news at the School and coordinator of the design contest.
Top row, from left: Jena Anderson, Lauren Keirsey, Kristin Kellogg, Victoria Millner, Philip Prouhet, Meredith Purcell. Second row: Dana Ranes, Phoebe Sexton, Ryan Spencer, Emily Wilson, Taryn Wood.
---
Mayer noted that she is especially proud of the Missouri journalism students who placed in the Designer of the Year category.
"Rather than relying on just one or two fantastic pages or packages, these students put together a portfolio that shows well-roundedness and versatility," Mayer said. "Kristin Kellogg, the master's student who was the top winner, is so talented. She's done fantastic work for Vox and the Missourian. It's such a great pleasure for me to see her recognized in this way."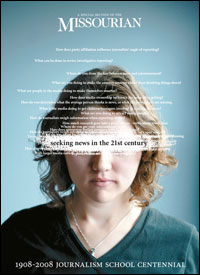 The contest, created by the School, was hosted in the Donald W. Reynolds Journalism Institute. The School's Student Society for News Design, the first student association affiliated with the Society of News Design, hosts the annual competition with support from the SND Education Foundation.
"I'm so proud of all our students who represented the J-School in the contest," Mayer said. "It's such a great experience to be able to host this national contest, and the students who help keep it running get the benefit of watching and learning as the judges critique and select the winning work."
Each year, a panel of professional newspaper, magazine and online designers judge submissions from individual student journalists and publications around the country. This year's judges included:
Tracy Boyer, an award-winning multimedia producer;
Dave Elsesser, design director at the Omaha World-Herald;
Bill Gaspard, deputy managing editor at the Las Vegas Sun and president of the Society for News Design Foundation;
William Neff, multimedia judge;
Will Sullivan, nerd in chief of Journerdism.com; and
Tippi Thole, features design editor at the St. Louis Post-Dispatch.
This year students blogged about the judging process live through a WordPress account. JPGs of the winning entries are available on a Flickr account. Photos and audio interviews also are posted online.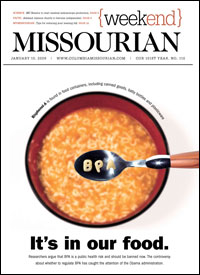 "Technology is allowing us to make the judging process more transparent each year," Mayer said. "I hope it's useful to listen to the judges discussing their criteria and advice for college journalists."
Missouri School of Journalism winning entries included:
News Page Design: Broadsheet-Sized Cover
Second Place: Dana Ranes, Columbia Missourian, "Striking, Vibrant, Scenic & Bright"
News Page Design: Tabloid-Sized Cover
First Place: Kristin Kellogg, Columbia Missourian, "Seeking News in the 21st Century"
Second Place: Kristin Kellogg, Columbia Missourian, "It's in Our Food"
Third Place: Philip Prouhet, Columbia Missourian, "Idealism"
Honorable Mention: Victoria Millner, "Forgotten Relic"
Photo Page Design: One Page or One Spread
Honorable Mention: Lauren Keirsey, Columbia Missourian, "Bruins"
Magazine Spread Design: Two or More Pages Devoted to a Single Subject
First Place: Meredith Purcell, Vox Magazine, "The Dirty Little Secret of Acutane"
Second Place: Kristin Kellogg, Vox Magazine, "Why People Don't Vote"
Third Place: Taryn Wood, Vox Magazine, "Swine Time"
Honorable Mention: Kristin Kellogg, Vox Magazine, "Credit Counts"
Honorable Mention: Kristin Kellogg, Vox Magazine, "Deconstructing Douglass"
Cover of Magazine or Special Section: One Page
First Place: Kristin Kellogg, Vox Magazine, "Meag and Music"
Honorable Mention: Andrea Guinn, Vox Magazine, "Enough with All the Petitions"
Honorable Mention: Emily Wilson, Vox Magazine, "True/False Film Festival"
Honorable Mention: Kristin Kellogg, Vox Magazine, "Citizen Jane"
Honorable Mention: Jena Anderson, Vox Magazine, "The Best Time to Do Stuff"
Honorable Mention: Kristin Kellogg, Vox Magazine, "Fall Preview"
Overall Design of a Magazine
Second Place: Vox Magazine
Overall Design of a Special Section
First Place: Andrea Guinn, Jenn Hueting, Lyndy Yossundharakul, Vox Magazine, "Vox Turns 10"
Second Place: Kristin Kellogg, Vox Magazine, "Elections 08: The Game of Politics"
Third Place: Taryn Wood, Vox Magazine, "Columbia's Top Doctors"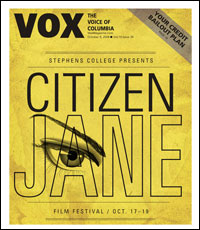 Multi-Page Story Package – Features Topics
First Place: Kristin Kellogg, Columbia Missourian, "From Vineyard to Table"
Honorable Mention: Meredith Purcell, Vox Magazine, "Summer Preview"
Information Graphics
First Place: Meredith Purcell, Vox Magazine, "The Gold Standard"
Honorable Mention: Ryan Spencer, Columbia Missourian, "Light for the World"
Illustration
Honorable Mention: Meredith Purcell, Vox Magazine, "Boone's Biopsy"
Honorable Mention: Meredith Purcell, Vox Magazine, "All the President's People"
Coverage of the November Elections
First Place: Kristin Kellogg, Vox Magazine, "Elections 08: The Game of Politics"
Honorable Mention: Alexandra McGuffie, Columbia Missourian, "A New Dawn of American Leadership"
Daily Designer of the Year
First Place: Kristin Kellogg
Second Place: Meredith Purcell
Honorable Mention: Taryn Wood
Best Mini-Site/Special Section of a Web Site
Second Place: Kate Ley, "Voters Guide 2008"
Best Interactive Infographic
Honorable Mention: Meredith Purcell, "The Gold Standard"
Best Multimedia Slideshow
First Place: Phoebe Sexton, "LBC Gospel Choir"
Second Place: Samantha Clemens, "Memories of the Depression"
Updated: May 4, 2020
Related Stories
Expand All
Collapse All
---