Missouri Journalism Students Win 13 Student Society for News Design Awards
Top Finishers Include Vox Magazine Special Section, Columbia Missourian Page and Cover Designs
By Rebecca Dell
Columbia, Mo. (April 21, 2015) — Missouri School of Journalism students won 13 awards in the 2015 College News Design Contest.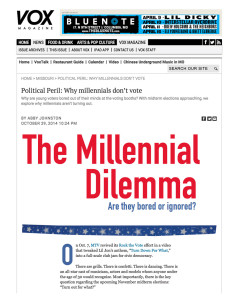 The juried contest is hosted by the Missouri Student Society of News Design and co-sponsored by the Society for News Design, an international organization for visual communication professionals. This year marks the first year SSND was hosted at the Newseum in Washington, D.C. College newspapers, magazines and news sites from around the world submitted almost 300 entries.
First Place
Mini-Site/Special Section of News Site
Vox Magazine, Ciera Velarde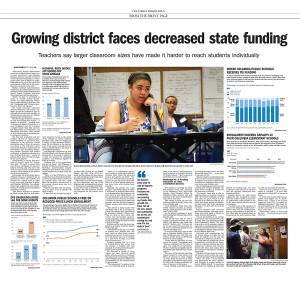 Newspaper Cover Design
Roselyn Adams
Newspaper Page Design
Columbia Missourian Staff
Second Place
Designer of the Year
Tracee Tibbitts
Multi-Page Features
Roselyn Adams
Third Place
Multi-Page Features
Allison Lewis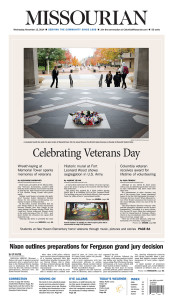 Photo Story
Columbia Missourian Staff
Magazine Cover
Lyndsay Pierce
Honorable Mentions
Sports Feature
Lihua Yu
Newspaper Cover Design
Columbia Missourian Staff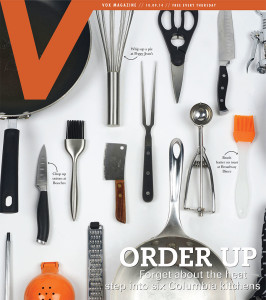 Photo Story
Roselyn Adams
Mini-Site/Special Section of News Site
Vox Magazine, Atiya Abbas
News Products on Other Digital Platforms
Vox iPad
Ying Wu is the faculty adviser for School's SSND chapter.
This year's contest judges were Dan Zedek, assistant managing editor for design at The Boston Globe; Lee Steele, president of SND and presentation editor/columnist for the Hearst Corporation; Marianne Seregi, magazine art director at The Washington Post; Seth Hamblin, deputy global visual editor at WSJ.com and The Wall Street Journal; Juan Velasco, co-founder and creative director of 5W Infographics and former art director at National Geographic magazine; and Mike Swartz, partner at Upstatement.
Updated: August 15, 2019
Related Stories
Expand All
Collapse All
---