Missouri Journalism Students Dominate Annual College News Design Contest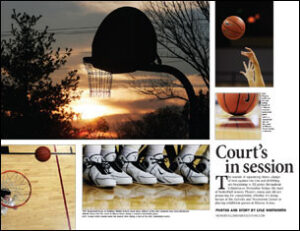 Columbia, Mo. (May 14, 2007) — Students from the Missouri School of Journalism recently swept the 19th-annual College News Design Contest, winning more awards than any other college or university and capturing first place in both the overall newspaper design and redesign competitions.
Missouri's designers brought home a total of 31 awards from the contest, which was created by and is housed within the School. The School's Student Society of News Design, the first student association affiliated with the Society of News Design, hosts the annual competition with support from the SND Education Foundation. The 2007 competition drew more than 700 submissions from colleges and universities across the United States.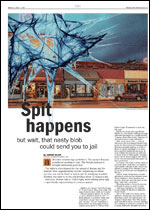 Each year, a panel of professional newspaper, magazine and online designers judges submissions from individual student journalists and publications around the country. This year's judges included Scott Goldman, assistant managing editor for visuals a The Indianapolis (Ind.) Star; Kristin Lenz, designer at The Hartford (Conn.) Courant; Mark Friesen, BJ '87, Web editor, The Oregonian; Nick Jungman, senior editor/interactive, The Wichita (Kan.) Eagle; Don Wittekind, assistant professor of visual communication, University of North Carolina at Chapel Hill; and Brian Storm, president, MediaStorm, a multimedia production studio.
The students named Designer of the Year for both daily and non-daily newspapers receive $750 travel grants to attend the SND annual workshop, which will take place Oct. 11-13 in Boston, Mass. Students from two- and four-year colleges across the country are eligible to submit their designs to the contest.
"News design is ultimately about showcasing stories and content, and our students' work shows a sophisticated level of visual storytelling that makes me proud," said Joy Mayer, assistant professor of newspaper journalism at the School and coordinator of the design contest. "The award for Best Overall Design, especially, means the collective quality of Mizzou students' design work – not just individual pages – is exceptional."
The 2007 Missouri Journalism students and publications honored by the College News Design Contest were:
Overall Design of a Newspaper
First Place, Staff, the Columbia Missourian
NewSunday Edition
Redesign
First Place, Staff, the Columbia Missourian
Weekend Missourian
Audio/Visual Presentation
First Place, Staff, the Columbia Missourian (Covering the Candidates)
Second Place, Shane Epping (Chiming In)
Inside News Page
First Place, Julie Wyatt, the Columbia Missourian (Health Insurance by the Numbers)
Overall Design of a Magazine or Special Section
First Place, Claire VanderVelde, the Columbia Missourian (Tiger Tipoff Section for On the Line)
Honorable Mention, Teresa Weaver, Vox (Mid-Summer Movie Guide)
Photo Page Design
First Place, Katie Bailey, the Columbia Missourian (Court's in Session)
Third Place, Becky Bierig, the Columbia Missourian (Surreal Shades Photo Page)
Magazine or Tabloid Spread Design
First Place, Marin Devine, the Columbia Missourian (Early Guidance/First Steps, a NewSunday Cover Story)
Second Place, Elissa Glass, Vox (Get Schooled)
Honorable Mention, Julie Wyatt, the Columbia Missourian (Legally Bound, a NewSunday Cover Story)
Best Design for a Digital Section
First Place, Teresa Weaver, eMprint (Little Black Options)
Second Place, Julie Wyatt, eMprint (The Art of Origami)
Information Graphics
First Place, Kevin Quealy, the Columbia Missourian (Layers of History)
Third Place, Bernell Dorrough, the Columbia Missourian (Little Snowfall)
Honorable Mention, Stefanie Zimmermann, the Columbia Missourian (Downtown Growing Up)
Illustrations
First Place, Teresa Weaver, eMprint (Little Black Options)
Multimedia Graphic
Second Place, Bernell Dorrough, Amanda Hicks, Danny Dougherty, Stefanie Zimmerman, the Columbia Missourian (Disaster Gives Way to Recovery)
Cover of a Magazine or Special Section
Second Place, Elissa Glass, Vox (King of Subs)
Honorable Mention, Alison Powers, the Columbia Missourian (Tiger Kickoff Section for Tight Ends)
Honorable Mention, Melissa Martinson, Vox (The Insider's Guide)
Honorable Mention, Kristin Swanson, Vox (Eat Globally, Think Locally)
Honorable Mention, Teresa Weaver, Vox (Sunny Days)
News Front Page
Second Place, Julie Wyatt, the Columbia Missourian (Downtown Growing Up)
Honorable Mention, Sabrina Guenther, the Columbia Missourian (Banished)
Honorable Mention, Teresa Weaver, the Columbia Missourian (Gender Connection)
Student Designer of the Year
Third Place, Julie Wyatt, the Columbia Missourian (Best Portfolio)
Features Design
Third Place, Becky Bierig, the Columbia Missourian (Spit Happens)
Honorable Mention, Becky Bierig, the Columbia Missourian (i.e. Section Front)
Sports Feature Page
Honorable Mention, Alison Powers, the Columbia Missourian (Tiger Kickoff Section for On the Line)
Updated: April 17, 2020
Related Stories
Expand All
Collapse All
---