Columbia Missourian Earns International Recognition for Olympic Page Design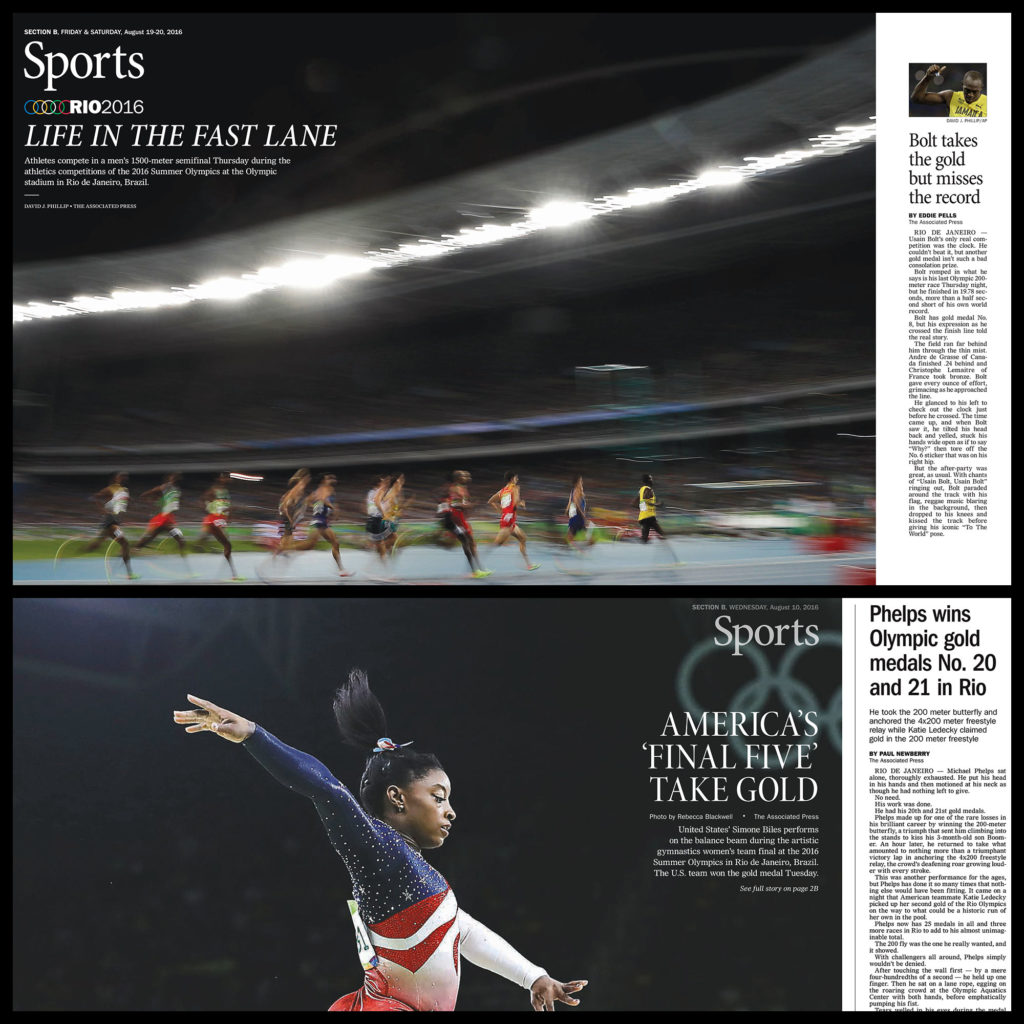 The Paper Won a Silver Medal and Honorable Mention in the Society of News Design Awards Competition
Columbia, Mo. (Nov. 16, 2016) — The Society for News Design's Region 19 – covering Asia and the South Pacific, including India, Australia, Japan, Indonesia and Southeast Asia – has awarded the Columbia Missourian a silver medal and an honorable mention for page design covering the Rio de Janeiro Olympic Games.
The Missourian work competed against professional papers and publications from the Middle East, Central and South America and the United States in the 38th Best of News Design competition.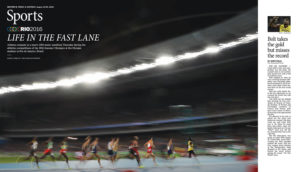 In the Sports Front category, Brianna Schroer earned a silver medal for "Life in the Fast Lane," published in the Aug. 19-20, 2016, issue. Alex Wozniczka won an honorable mention for "America's 'Final Five' Take Gold," published Aug. 10, 2016.
The judges gave special recognition to the designers and editors at the Missourian, citing "their bold photo editing and display. The Missourian's sports fronts were a standout, using simple architecture that consistently respected and elevated the power of sports photography."
"This award just affirms my belief that great design takes great planning and teamwork, and I'm so proud of everyone in this whole process," said Tom Warhover, executive editor of the Missourian.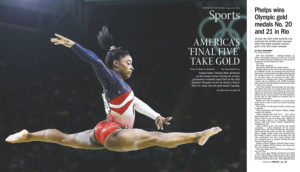 The paper's design editor, Brady Jones, oversaw the development of the work.
Other students involved in the project were Kyle Brown, Laura Davis, Jamie Dunaway, Sarah Fine, Amber Garrett, Brooks Holton, Andrew Kessel, Sasha Kochurova, Jonathan McKay, Haley Pitto, Brianna Schroer, Hannah Sturtecky and Zach Van Epps.
Faculty who helped supervise the work were Gerri Berendzen, Elizabeth Conner-Stephens, Ron Jensen, Laura Johnston, Brian Kratzer, Maggie Walter and Warhover.
The competition was judged by Chris Courtney, lead mentor at Bloc in Chicago; Satoshi Toyoshima, assistant graphics editor at The Sankei Shimbun in Toyko; and Stephen Komives, executive director of SND.
Updated: October 9, 2020
Related Stories
Expand All
Collapse All
---