Stern Named Managing Editor of the Columbia Missourian
Columbia, Mo. (Sept. 6, 2006) — Reuben Stern has been named the new managing editor of the Columbia Missourian. He will oversee the daily operations of the newsroom as it expands its use of technology to deliver news.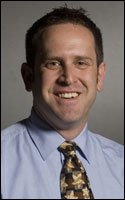 Stern said he is eager to lead the effort. In 2004, Stern helped lead the re-conceptualization of the Missourian's Sunday newspaper, which included a unique public prototyping process and significant academic research. The combined effort garnered recognition from the International Society for News Design, the Missouri Press Association and Editor & Publisher magazine.
"Now is a critical time for the newspaper industry because of the radical shift to the online world. One of our challenges is going to be transforming the Missourian from a print newspaper to a truly multi-platform news source," Stern said. "A lot of newspapers are trying to figure this out, and it really is a challenge. But we have the resources here to figure out solutions for the industry."
Stern, BJ '93, MA '06, most recently served as the Missourian's marketing creative director and brand manager, having previously served as graphics editor, senior news editor and assistant professor. He has extensive newspaper journalism experience having worked at The Atlanta (Ga.) Journal-Constitution, The Budapest Sun in Budapest, Hungary, and the Los Angeles Daily News.
"We all have this newspaper in our hearts. I know I certainly owe my career to this school, so this is my chance to give back to the community and the school by helping train the next generation of journalists," Stern said.
The Missourian is a community newspaper for Columbia and mid-Missouri that also serves as a working lab for students in reporting, editing, design, information graphics and photojournalism classes. A team of faculty editors guides the staff of more than 200 students to publish the paper six mornings a week. The Missourian is online at www.columbiamissourian.com.
Updated: April 10, 2020
Related Stories
Expand All
Collapse All
---