Columbia Missourian Sports Section Scores Big with Associated Press Sports Editors Awards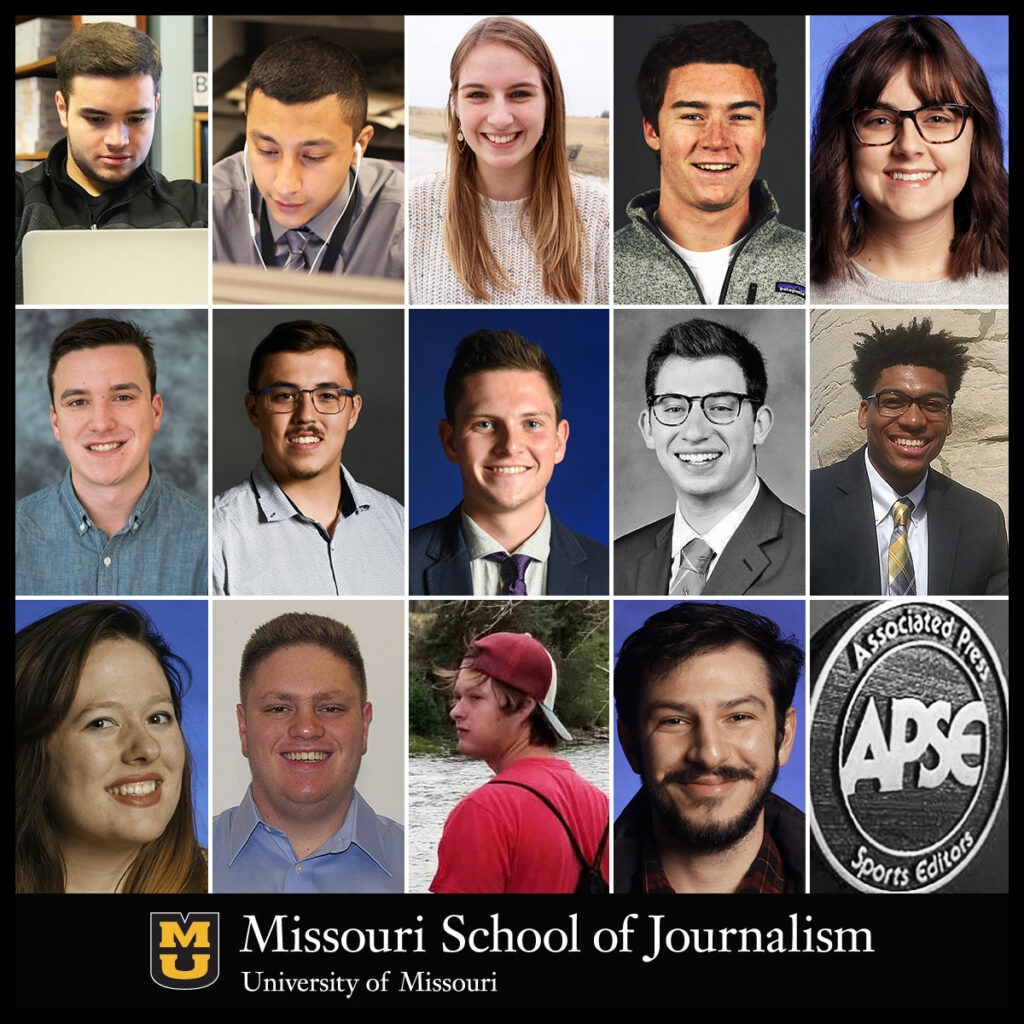 Columbia Missourian student sports reporters receiving nationwide Top 10 recognition from the Associated Press Sports Editors include (top row, from left) Matt Antonic, Ryan Herrera, Hannah Hoffmeister, Will Jarvis, Jenna Kieser. Second row: Reed Koutelas, Brendan Lavell, Eli Lederman, Alec Lewis and Langston Newsome. Third row: Liv Paggiarino, David Sack, Jake Sutherlin and Antranik Tavitian. (Not pictured: Cameron La Fontaine and Joey Schneider.)
National Contest Recognizes Excellence in Professional Sports Writing
Columbia, Mo. (March 6, 2019) — The Columbia Missourian and 16 Missouri School of Journalism sports reporters have received Top 10 recognition from the Associated Press Sports Editors competition for work produced in 2018. Professional sports editors and journalists from across the nation selected the winners during four days of judging in Lake Buena Vista, Florida.
The national contest recognizes excellence in professional sports writing. The Missourian competed in Category D, which includes publications with circulations of less than 30,000. The top five in each writing category will be announced at a later date.
The Columbia Missourian has won more than four-dozen APSE awards in the past 10 years.
"The real winners here are the sports fans of Columbia, for whom this work was done," said Michael Knisley, assistant professor and sports editor for the Missourian. "The Missourian's reporters and photographers and videographers and editors who contributed to the making of these stories take seriously their mission to serve the community with their coverage. That they do it so successfully in a real-world, deadline-driven professional environment – as full-time Missouri School of Journalism students – is a testament to that commitment."
The Columbia Missourian is a digital-first, community newspaper supervised by professional editors and staffed by Missouri School of Journalism students who do the reporting, design, copy editing, information graphics, photography and multimedia.
The Missourian was named one of the Top 10 Overall for digital publications, Top Five for the Sunday section, and received Honorable Mentions for daily sections and special section for Tiger Kickoff.
Student winners for the 2018 APSE awards are as follows:
Photography
Reporting
Breaking News: Reed Koutelas and David Sack, 'A Brutal Blow;' Reactions to Jontay Porter's Season Ending Injury
Explanatory: Hannah Hoffmeister, Girls Wrestling: Missouri's Fastest-Growing Sport You Didn't See Coming
Explanatory: Eli Lederman, 'Sometimes It's Not in Our Hands:' MU Looks Within – and to the Past – to Ensure Player Safety
Beat Writing: Eli Lederman, for his work covering the University of Missouri football team.
Game Story: Brendan Lavell, Missouri Seniors Bid Faurot Farewell with Shutout of Arkansas
Multimedia: Will Jarvis and Alec Lewis, Michael Porter Jr.'s Journey: A Timeline
Video: Liv Paggiarino, Friday Night Symmetry
Video: Cameron La Fontaine and Joey Schneider, Baseball and Life Lessons
Projects: Ryan Herrera, Matt Antonic, Langston Newsome and Jake Sutherlin, for their series on high school football participation numbers last fall.
APSE, founded in 1974, is based at the Indiana University National Sports Journalism Center. The organization strives to improve professional standards for sports departments of professional news organizations and to recognize excellence among its membership.
Updated: November 6, 2020
Related Stories
Expand All
Collapse All
---