Junior Aaron Reiss Wins $5,000 National Sports Journalism Scholarship
The Jim Murray Memorial Foundation Scholarship Is Awarded to Students Interested in a Sports Writing Career
Columbia, Mo. (Aug. 4, 2015) — Aaron Reiss, a Missouri School of Journalism junior, is one of five national winners of the Jim Murray Memorial Foundation scholarship.
Reiss, a magazine journalism major from Houston, will receive a $5,000 award and a trip to the Santa Anita Racetrack in California in October where he and the other winners will be recognized.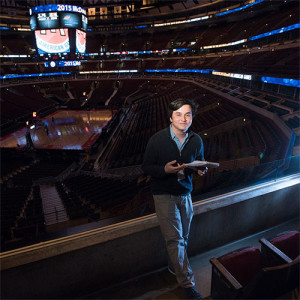 This fall, Reiss will cover University of Missouri SEC football for the Columbia Missourian, the daily city newspaper published by the Missouri School of Journalism. Reiss will travel to games and produce a weekly insert.
Reiss's summer internship at the Colorado Springs Gazette allowed him to cover a wide variety of sports.
"The presence of the Olympic Training Center makes this city a unique sporting culture," Reiss said. "I covered USA national teams, mountain biking, cars racing up mountains, professional baseball. My Missouri education prepared me to find the story in anything."
During the 2014-15 academic year, Reiss covered a variety of sports for the Missourian, including men and women's high school basketball, baseball and a mouse race in Fulton. One highlight was producing a series of stories on basketball player Sophie Cunningham, the first athlete from the City of Columbia to participate in the McDonald's All American Game. Cunningham, ranked as the No. 14 recruit in the country, committed to play at Missouri in April.
Reiss is the sixth Missouri journalism student to win the scholarship, which recognizes students who are interested in a career in journalism, especially sports writing. Michael Shaw, BJ '15, won in 2014; Andrew Wagaman, BJ '13, in 2013; Elizabeth Manring, BJ '08, in 2007; Kyle Nagel, BJ '03, in 2001; and Katie Tiernan, BJ '02, in 2000.
A panel of nationally recognized sports journalists judged the winning essays. This marks the 16th year the JMMF awarded scholarships in memory of Pulitzer Prize-winning sportswriter Jim Murray.
Murray was a sportswriter for the Los Angeles Times for more than 30 years. In 1954 Murray became one the founders of Sports Illustrated. He then joined the Los Angeles Times in 1961, and went on to win a Pulitzer Prize for Commentary in 1990. Murray also garnered the National Sportswriter of the Year Award 14 times in his career. Murray's outstanding work landed him a spot in the writers' wing in Cooperstown Baseball Hall of Fame in 1988. He died in 1998, and his wife, Linda McCoy-Murray, established the Jim Murray Memorial Foundation in 1999.
"Aaron wants to get better. He's always asking, 'What should I be reading? What should I be working on?'" said Greg Bowers, the Missourian's sports editor. "He's a student, always watching and listening. The result? What you'd expect: He's getting better."
Updated: September 10, 2020
Related Stories
Expand All
Collapse All
---