Mizzou Alumnus Mike Hall, BJ '04, Talks Sports Journalism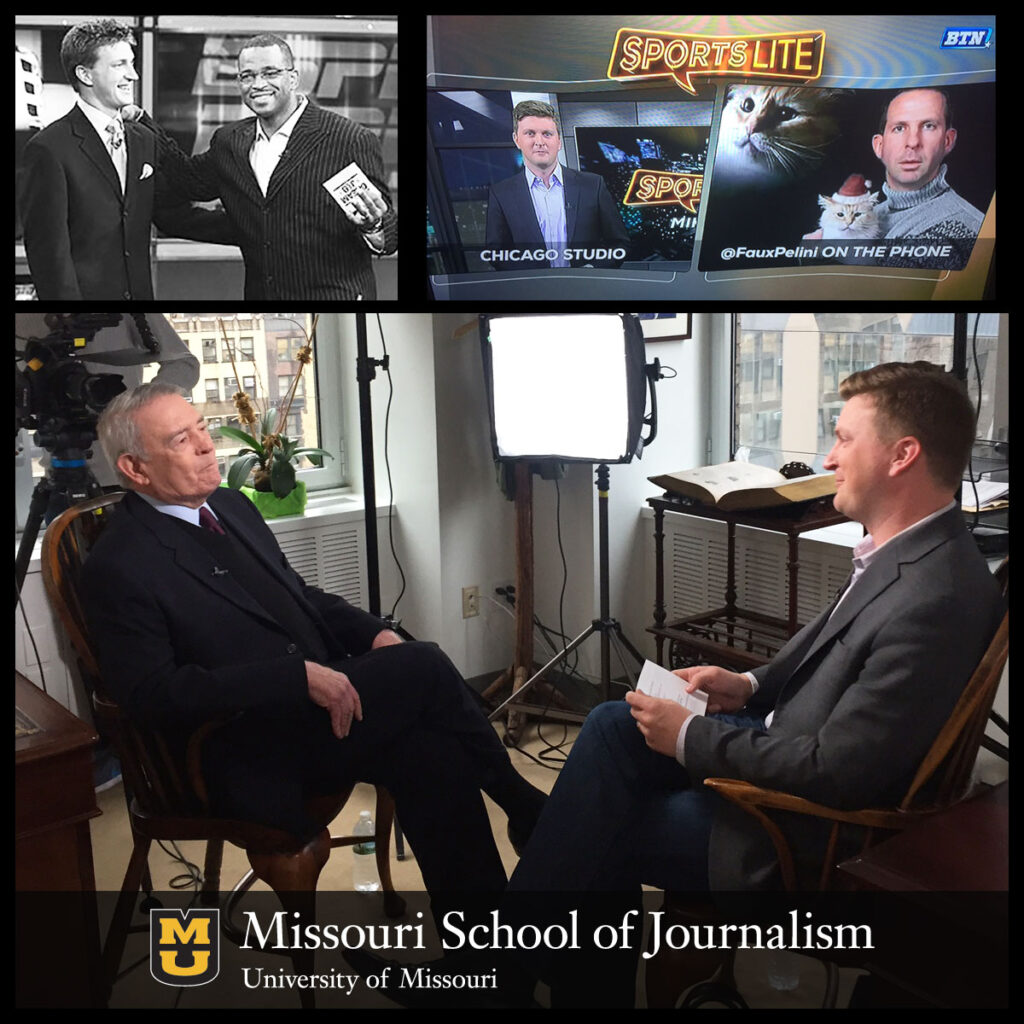 Columbia, Mo. (June 22, 2017) — Inside Sports recently interviewed Mike Hall, BJ '04, now working for the Big Ten Network. Hall hosts pregame, halftime and postgame shows for Big Ten Football and men's basketball games; he also hosts BTN's late-night show, "Sports Lite With Mike Hall," airing Wednesday nights during the fall season.
In the photos, at top left, Hall as a Missouri Journalism senior in 2004, on set with ESPN's Stuart Scott. Top right, Hall conducts an on-screen interview for BTN. At bottom, Hall interviews Dan Rather in his New York City office earlier this summer for a piece to air in the fall on "Sports Lite With Mike Hall." Photos courtesy of BTN and Mike Hall.
Inside Sports: How did the Missouri School of Journalism prepare you for what you do now?
Mike Hall: The real world experience that Mizzou's J-School provides is incredibly vital. Being able to learn, fail, try again, succeed and repeat at KOMU is why Missouri's J-School is the best broadcasting experience any university in America can provide. It taught me how to deal with deadlines, how to deal with live TV, how to write and edit – be brief when necessary – and get out of the way, not make a story about you. I wouldn't be where I am without MU.
Inside Sports: What does it take to do your job as a host/anchor/reporter at the Big Ten Network?
Hall: Oh, a lot of things. I mean, it's not, as the saying doesn't go, "rocket surgery," but it does require some skills. You have to be very well researched to be good here. People aren't looking for a broadcaster who only has a surface-level knowledge of the details and history of the league. You have to be polished and not make mistakes. And I believe, in my role, you have to have fun. It's a sports network, and a college network. Breaking down the 4-3 defense in great detail only goes so far, but being able to get a star QB to laugh and open up and show personality is what's required for this network in my role.
Inside Sports: What advice would you offer for aspiring sports journalists?
Hall: Be ready to grind. It's an evolving industry and yet, tons of people still want in, so you better work harder and be better. Don't focus on one thing. Be versatile. If you want to do sports, fine, but also be good at news. If you want to do studio work, fine, but be able to do remote work. Try all sorts of different things because then, when an opportunity comes up, even though it may not be the exact thing you want to do, it can open doors for you down the line. A Big One: Be low maintenance. Don't rely on anyone else to do anything else for you. Be open to get help and advice and be willing to work with others, and collaborate, but be able to do most of the work without needing someone else to assist. And learn to ask short questions. Don't be wordy.
Inside Sports: Over the period of a week, what things do you typically do for your job?
Hall: Oh, it depends on the season. In basketball, I may host a one-hour daily talk show one day, the next day stay late and do halftime reports and a postgame show. The next day I may do sideline reporting for a game. In football, I host my late-night show, I may do halftimes, I may do a postgame show, I may host our daily talk show, etc. My job includes writing, researching, doing interviews, working with producers and analysts to find angles to attack something with an interesting, and hopefully fresh, perspective.
Inside Sports: What is one thing you wish you knew as a student that you know now?
Hall: I wish I knew the importance of reps; the only way you'll get better is by doing and doing and doing. And you can't start too early. Your 100th time you did something will be so much better than your 10th time, your 1,000th time doing it will be so much better than your 100th. It just will. I didn't fully get that when I was 20, and although I worked hard at Mizzou, I might have tried to find more ways to do more things.
Inside Sports: What is your favorite sports journalism memory?
Hall: Hard to pick one. I've been lucky. Interviewing Dick Butkus and making him laugh. Getting personality out of interviewees like when I got Dan Rather to play along with me and insult me; it's a piece we just shot this spring and will air this fall on Sports Lite. Doing a really long and challenging show, like an eight-hour National Signing Day show, for example. Doing sideline reporting and intermission hosting for the Frozen Four. Anytime I sat in the chair and hosted Sportscenter. And honestly, believe it or not, I still have my KOMU award for the category Best Live Shot. Still damn proud of that.
Updated: October 23, 2020
Related Stories
Expand All
Collapse All
---