John Deighton, BJ '18, Talks Sports Journalism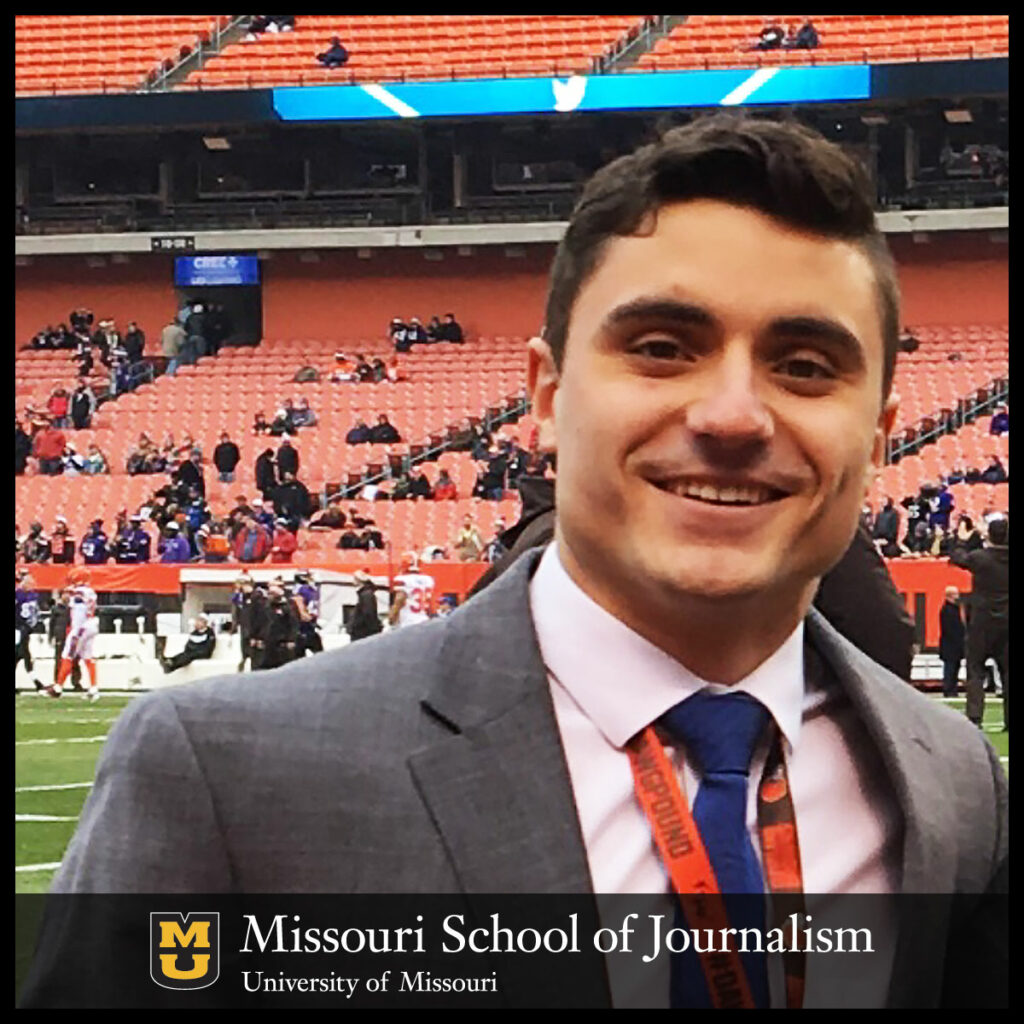 Columbia, Mo. (June 12, 2019) — John Deighton went 19 games without witnessing a victory.
Sixteen of those came during a winless season while working as a public relations intern with the Cleveland Browns. Then, he watched three more at the start of the 2018 season after Deighton joined the Houston Texans public relations staff as an intern.
"So there were a lot of jokes that I would never win a game," Deighton said. "I would never be part of an organization that won a football game."
He just had to wait for Game 20.
The Texans, and Deighton, ended up making the playoffs this past season. Although Deighton was not on the field, he remained busy away from it, putting his Missouri Method training to use. The work he put together during two full seasons working in public relations for NFL teams recently helped him land a job on the NFL's football communications staff.
Deighton, who also worked as a press assistant during his undergraduate years for a U.S. Senator, discussed his career path as well as his time at the Missouri School of Journalism in a recent interview with Inside Sports.
Inside Sports: How did your experience at the Missouri School of Journalism prepare you for your jobs with the Browns, the Texans and now the NFL?
John Deighton: I think the biggest thing is learning a work ethic and how to balance several different projects and tasks and things that might come up that you're not necessarily prepared for. You're kind of thrown into a position where you have to learn to adjust and think on your feet. I had a lot of practice with that in the four years I had at Mizzou. You could be working on a project, a paper and a group project and trying to balance all of that at the same time. Also, learning to push yourself. Mizzou was definitely a challenging experience, but it was really rewarding. Just from a time-management aspect, that was huge. From a skills perspective as well, the professors I had at Mizzou were outstanding at really honing my writing and learning grammar. AP Style is something I used every single day with the Browns and Texans. From a skills perspective, I definitely learned a ton being at the J-School. Also, I think it just opens doors. That was the reason I came to Missouri in the first place. A funny story: I was looking at another school (when I was in high school), and when that school was pitching their journalism program, they said their goal was one day to have a program as good as Missouri. The Missouri Method…people talk about it all the time and you hear about it, but it really caries some clout. When I would go places and people hear I went to Missouri, they recognize it is one of the premier programs in the nation. There's an assumption that if you have gone through four years at Mizzou, you are going to be sharp, you're going to be polished and you're going to be ready to work in any atmosphere they ask you to.
Inside Sports: How did you manage to transition from working in politics to sports?
Deighton: The biggest thing for me was trying to convince the Browns that my experience on the campaigns would translate well. A lot of it is just hard work and a willingness to do whatever is asked. My experience in politics was definitely interesting and it was definitely a grind. You're working 100-plus hour weeks and that was something I really enjoyed. I love working hard and I love being a part of a team like that where you are working together for a common goal. There are a lot of similarities when it comes to working with a small staff in politics and working with a small staff in sports. You have a task at hand every single day. Between my education at Mizzou and my experience in politics, I was really lucky that the Browns were willing to take a shot on a guy that didn't have any sports experience. I was able to convince them that, hey, even though I haven't worked in this realm, I have worked with high-profile people before and I have worked in high-pressure situations. I can contribute in any way you ask me to, and then I'm going to work my butt off for you. I was super fortunate they gave me a chance, and I just tried to make the most of it from there.
Inside Sports: What has been the most memorable moment you have had working in the NFL?
Deighton: It's tough to pin down one specific memory or aspect. Obviously, being in the locker room Week 4 this year with the Texans when we won our first game of the season, from a selfish standpoint…I had been in a lot of losing locker rooms, so I think I smiled that entire postgame and the whole flight home. I'm sure I was smiling when I was sleeping, too. I was so excited to be a part of a win. That was awesome. I just think the day-to-day, being around the building with the staff and getting to know the people in the organization is the most rewarding aspect of it because I have learned so much from so many great people. And I have only been in it for two years. But it has been an unbelievable experience getting to know people, how they function, how they handle certain situations…I love being in the foxhole with the team headed in the same direction. These past two years have been incredibly rewarding and I wouldn't have traded it for the world.
Inside Sports: What are you most excited about with your new role?
Deighton: I think the biggest thing is learning how the league operates and functions on a day-to-day basis. Getting to meet more people in the league office, learning how they function, how they work, what their goals and aspirations are. And then also getting an opportunity to be of service to both national media and public relations staff around the NFL, doing anything I possibly can to help how my department asks me to.
Inside Sports: What advice would you offer high school and college students who are looking to get into sports public relations?
Deighton: I would say that if you know early in college that you want to be part of an NFL organization or a sports team, have a plan and then get involved as early as possible. I feel very, very fortunate that I was able to get my foot in the door without having prior sports experience throughout my college career. If I had known that I wanted to get into NFL public relations, I would have gone to the Mizzou sports information director and said, "How can I help? Can I help with game days, can I help with anything?" Then I might reach out to the Chiefs public relations staff and say, "Hey, I'm a senior at Mizzou looking to be involved. Can I come help you on game days? Or are there any opportunities for me to get involved?" Or maybe training camp stuff in the summer. I know a lot of NFL organizations during training camp will look to have a training camp intern, someone who is there for a month. That's a way to put experience on your resume before leaving college and looking for an internship. And then also, just be patient. It can be trying because it's a lot of waiting and hoping, but I think if you know that that is what you want to do, just stick with it. Take the skills you learn at Mizzou as well as that work ethic and attitude that I'm going to do whatever I can to make this a career and take that and run with it.
Updated: November 10, 2020
Related Stories
Expand All
Collapse All
---