Tim Tai, BJ '16, Talks Sports Journalism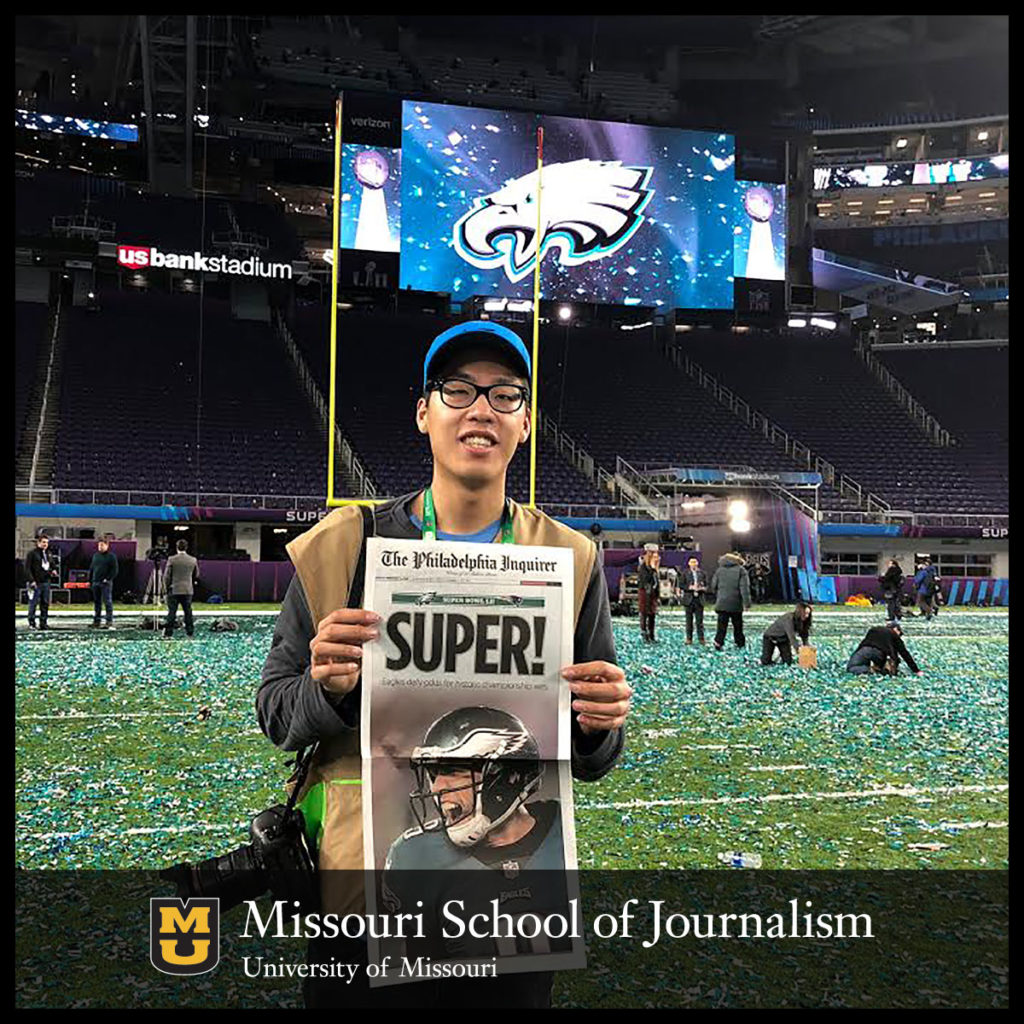 Columbia, Mo. (March 6, 2018) — Tim Tai graduated from the Missouri School of Journalism less than two years ago, and he has already covered a Super Bowl for the Philadelphia Inquirer.
Tai took photos of the Super Bowl held Feb. 4 in Minneapolis, after joining the Inquirer in Nov. 2017. He previously worked as a staff photojournalist for the Columbia Tribune, a job he started three months after graduation. Tai didn't actually begin working there until Aug. 2016 as he was busy working at the Boston Globe on a summer internship. He also worked as an intern for the San Antonio Express-News and the Tulsa World.
Tai spoke with Inside Sports about his experience covering the Super Bowl and how the Missouri School of Journalism prepared him for this premier event less than two years after graduation.
Inside Sports: What was it like to cover the Super Bowl?
Tai: It is definitely the biggest sporting event I have ever covered. There's extra pomp and circumstance but it's still a 60-minute football game. I have covered plenty of football games, so you rely on your experience to cover it like you would any other game.
In a regular football game, if you miss something or you are on the wrong side of the field, it might not ultimately matter in the course of the game. But the Super Bowl, there are so many eyes on it that any play could be the game-changing play. You really have to be on top of things and make sure you aren't missing anything. It helped that we had seven total photographers there – four on the field, one person editing and two people were in the stands. At a normal game, the paper only has two to three people covering it. So, it's easier than a regular game in that I was on the field and I didn't have to move around because we had one person in each corner. And also, at the Super Bowl, the big camera companies come and loan everybody really nice equipment. I had top-of-the-line camera gear from Canon. That makes it easier because you are using the newest cameras with the best autofocus and they can shoot the fastest frame rate.
But there was definitely a lot of pressure because you never know what play could be the play. In this game, there were two big plays: the Zach Ertz touchdown in the fourth quarter that put the Eagles back up ahead – that happened in my end zone and I got that photo. And also, the Tom Brady strip sack, which also was toward my end of the field. I also got that. That was really cool that those happened to come on my side of the field. Fortunately, the cameras worked and everything came out all right.
The reaction celebration and dejection stuff at the end is also much more important. The players are reacting much more wildly than normal and it is kind of crazy because there are so many photographers and TV people on the field. Usually, you might have to jostle your way into a scrum, but this was three times that. There were so many people trying to get the shot and be the first one to get to the coach or the quarterback or whatever. There's no room and the players are going crazy.
Inside Sports: How did your Missouri School of Journalism education help prepare you for what you did at the Super Bowl?
Tai: I was lucky that when I was in school, I had the chance to cover a lot of football games, first at the Maneater and then at the Missourian. Just having experience covering football is important, but also working in a team with reporters and other photographers covering games is important, especially for big events.
Inside Sports: How have others in the industry viewed your Missouri School of Journalism degree?
Tai: When people ask me where I went to school, I will tell them Mizzou. They go, "Oh, Mizzou has a really great J-School." When I first got to the newsroom, and even the people I interviewed with for this job, were Mizzou grads. We talked about the J-School and the Missourian. When I first got to the newsroom my first week, one of the editors who was a Mizzou grad introduced himself right away. He corralled up some of the other Mizzou people in the newsroom and we took a photo. It was just cool to see there are Mizzou grads all over the place, even on the East Coast. I am always proud to represent Mizzou as a graduate and want to make sure I am doing the best work I can so people have a positive impression of the kind of education I got.
Inside Sports: What advice would you offer to aspiring photojournalists or anyone aspiring to cover sports?
Tai: I think the biggest thing is, you have to do it. For photojournalists who like covering sports, you have plenty of opportunities to go cover high school games because it is a lot easier to get access. In terms of photographing the action and reaction during games, the best way to get better at it is to practice. Go cover games. The more you do it, the easier it gets. The more you cover a football or basketball game, the better you will get at anticipating the action and the reaction, whether it's happiness or dejection. If you don't practice it a lot, you are more likely to miss something because you might not be aware it's going to happen. Then also, I really enjoy doing photo stories that involve sports. Sports is a microcosm in terms of all of the emotions involved. It intersects with so many other people's lives. There's like a really big opportunity to do stories about teams and athletes. There's a lot of opportunities for good stories outside of the action. Sports means so much to people. It's no surprise there's so much emotion and people care so deeply about it. That lends itself to good stories. Columbia doesn't have pro sports, so I was never going to cover a Super Bowl there. But there are so many other types of great sports stories that I was able to work on when I worked on in Columbia. So it doesn't matter where you are. There are always great pictures to be made.
Photo: Steve Falk/Philadelphia Inquirer
Updated: October 28, 2020
Related Stories
Expand All
Collapse All
---