Jake Meister Talks Sports Journalism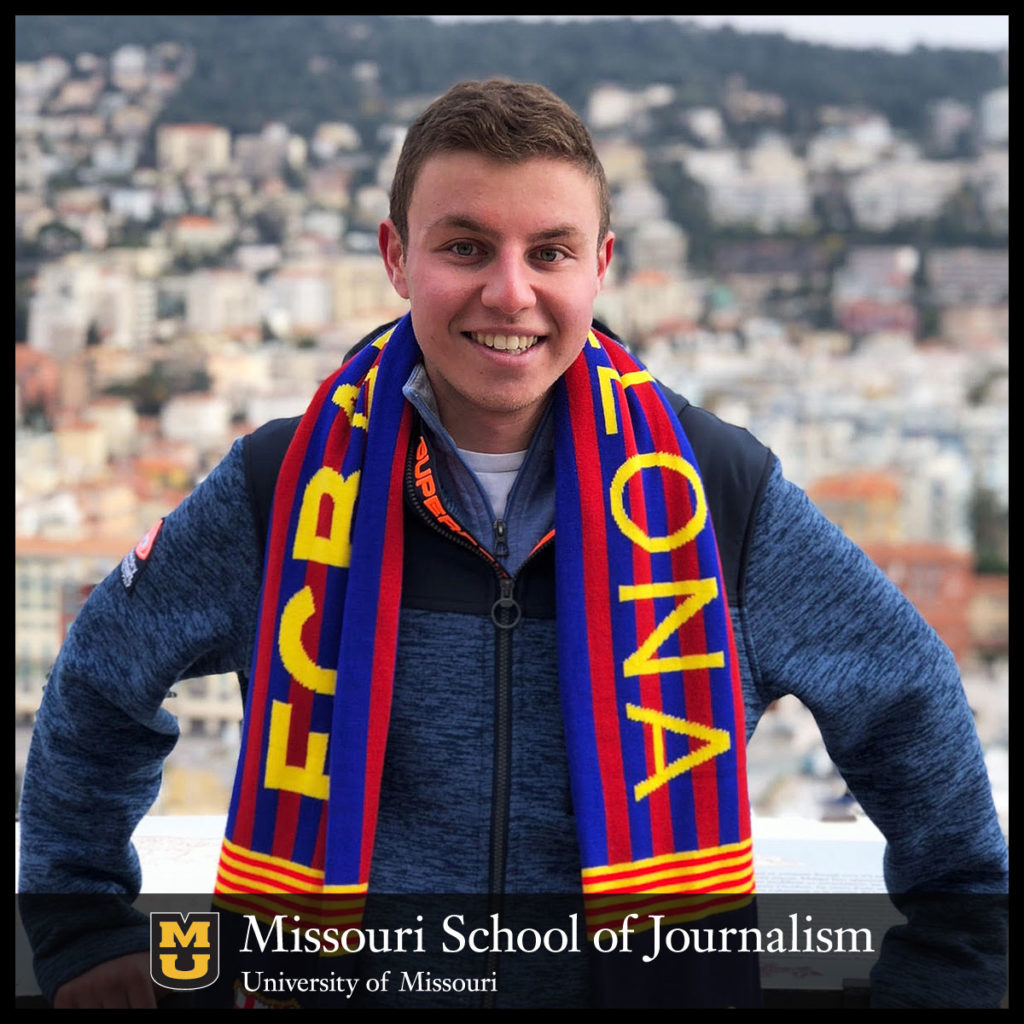 Columbia, Mo. (April 19, 2018) — Jake Meister is studying abroad in London right now, but once he returns, an internship awaits him in Ashburn, Virginia. Meister, a strategic communication major, will work for the Washington Redskins as a digital media intern this summer.
A Highland Park, Ill., native, Meister is working for a company in London called Snack Media as part of his study abroad experience. He has had work published on their websites, including FootballFanCast and Digital Sport. Meister has also worked for the FootballFanCast social team.
Meister spoke with Inside Sports about his upcoming experience with Washington and how the J-School helped him earn it.
Inside Sports: How did the Missouri School of Journalism help put you in a position to land a summer internship working with an NFL team?
Jake Meister: I would say that the most important reason as to how the J-School helped me land an internship with the Redskins would be through Tanya Heath, my JOURN 4204 lab professor. She set me up with one of her former students, Mizzou Athletics Sports Information Director R.J. Layton and, from there on, it just took off. Interning with the athletic department is certainly the most valuable thing on my resume, at least judging from interviewing with not only the Redskins but other sports teams and leagues. Long story short, I am a full believer that the Missouri Method in sports is alive and well. I think that students – including me – gloss over that when we are applying for internships/jobs. It does have value, even if we don't think about it.
Inside Sports: What excites you most about this internship?
Meister: I am most excited to be simply working for a professional sports team. I'm also buying into the idea that so many great sports professionals have said for years, "If you enjoy what you do, it isn't work." My love of sports stems back to my childhood, whether that was simply by watching SportsCenter or going to Wrigley Field for a Cubs game. I've just always been so comfortable with everything that surrounds the sports community, and I'm so happy that I have an opportunity to actually work in the field. I've been fortunate enough to already have some pretty valuable positions early on in my career. However, my ultimate goal after school is to work in the communications/media department of a professional sports team/league. To already be gaining the experience before I graduate is an added bonus. Also, my position will give me the opportunity to meet Redskin players face-to-face. Jordan Reed is one of my favorite players in the NFL, so hopefully I won't be star struck.
Inside Sports: What will you be doing for Washington?
Meister: My official title is a digital media intern. This mainly translates to transcribing interviews from players across the Redskins organization and posting to the team's website. However, I should also be writing my own pieces for the website as well. A majority of the content I'll be working with will be centered around organized team activities, rookies, and training camp.
Inside Sports: In what ways is that similar to what you have done during your time at the Missouri School of Journalism?
Meister: I would say that this position is somewhat similar to my experience in JOURN 2100. While there are certainly some differences to my internship and the class, I know that I will need to use the skills I learned in 2100 constantly, like AP style and how to write a story. I'm also hoping to use some of the skills that I have learned in my strat comm classes, like PR strategies.
Inside Sports: What advice would you offer for students looking to land internships?
Meister: It sounds cliche, but it's so true: Apply for as many as you can, and always be networking. Don't try to jump for "the big stage" immediately. I did a lot of work for small companies remotely in my freshman and sophomore years before looking for actual internships. I landed this position because of the connection I had between the J-School and MU Athletics. I applied for about 70 internships this summer, had about 10 interviews, and it led to this. Just always put your hat in the ring. Worst case is, you move onto the next one.
Inside Sports: What is your favorite J-School memory related to sports?
Meister: I'm not sure if this answers the question, but it has to be the buildup before the first basketball game this year. For the first time in my collegiate career, it just felt like Mizzou had relevance in college sports. Everyone was proud to be a Tiger that weekend.
Updated: October 30, 2020
Related Stories
Expand All
Collapse All
---