Inside Sports Journalism: June at the J-School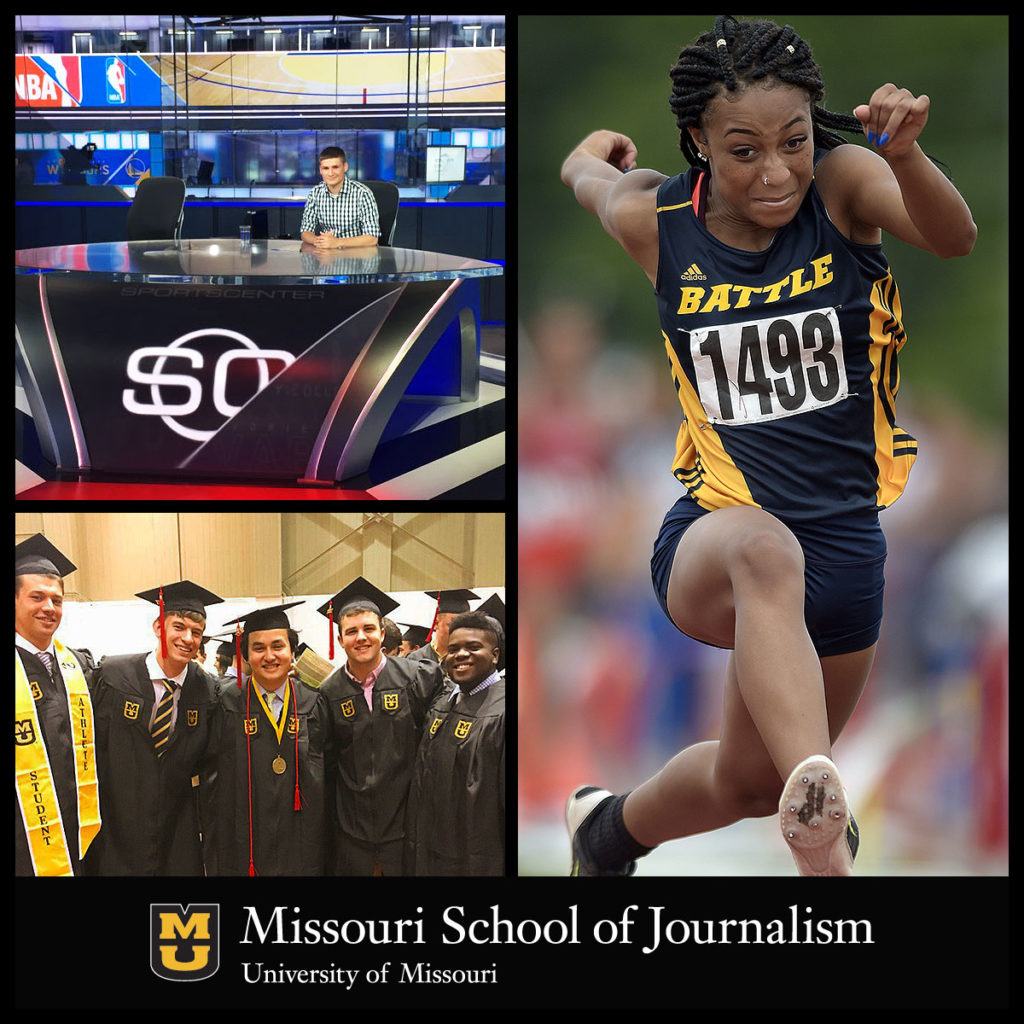 Top left, Missouri senior Matt Vereen poses for a photo at the reporting desk on a break during his summer internship at ESPN. Bottom left, May 2017 graduates currently working at summer internships include (left to right) Mitchell Forde, St. Louis Post-Dispatch; Alex Schiffer, Washington Post; Aaron Reiss, Minneapolis Star Tribune; Brad Almquist, Boston Globe; and Colton Pouncy, The Tennessean. At right, Battle High School's Alexis Spikes competes in the triple jump during the Class 5 State Track and Field meet on Saturday, May 26, 2017, at Jefferson City High School. Spikes placed third with a jump of 38 feet 8.25 inches. Photo: Kayla Wolf for the Columbia Missourian.
Columbia, Mo. (June 8, 2017) — The news cycle never stops, and neither does sports reporting at the Missouri School of Journalism. Check out the behind-the-scenes sports action of Missouri students as they report, photograph, film, edit, share, create and more for the School's professional news outlets and agencies, national publications as well as campus media. Opportunities are available for all years in school, freshmen through senior. Follow us on Twitter @MUJschoolSports to receive updates.
Sports Journalism Internships
Brad Almquist, BJ '17, Boston Globe
Matt Vereen, senior, ESPN

The ESPN internship with SportsCenter anchor John Anderson, BJ '87, is offered exclusively to Missouri students.

Aaron Reiss, BJ '17, Minneapolis Star Tribune
Colton Pouncy, BJ '17, The Tennessean

The Tennessean internship, offered through the Sports Journalism Institute, begins with a nine-day journalism boot camp during which students work in Missouri print and digital newsrooms prior to traveling to internships across the country.

Alec Lewis, junior, The Milwaukee Journal-Sentinel
Cady Lowery, senior, National Baseball Hall of Fame and Museum
Devan Collins, BJ '17, Kansas City Chiefs
Mitchell Forde, BJ '17, St. Louis Post-Dispatch Rick Hummel Internship
Jacob Seus, senior, Madison Square Garden Networks
Nick Kelly, sophomore, Rochester Post Bulletin
Anne Rogers, junior, Des Moines Menace Soccer
Jared Koller, senior, KCTV5
Bren Krakow, sophomore, FC Dallas
Bryce Marlin, senior, iSportsWeb
Theo DeRosa, junior, San Diego Coastal Collegiate League
Three more Missouri sports journalism students are working in internships unrelated to sports reporting:
What About You?
Are you a Missouri sports journalism student at work in a summer journalism internship? Let us know by sending the relevant details to journalism@missouri.edu.
Updated: October 23, 2020
Related Stories
Expand All
Collapse All
---