Homer L. Hall Scholarship Honors High School Newspaper Adviser
Print and Digital News Senior Rachel Brooks Is the First Recipient
Columbia, Mo. (Dec. 17, 2015) — Rachel Brooks, a Missouri School of Journalism senior, has been named the first recipient of the Homer L. Hall Scholarship.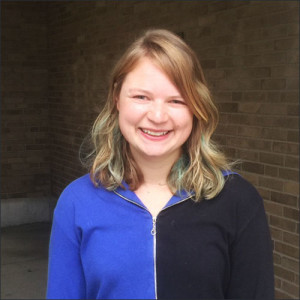 Brooks, a print and digital news student with a concentration in international journalism, will receive $2,000 to help support her studies during the spring 2016 semester.
She plans to join the Peace Corps and work in Morocco immediately following graduation from the University of Missouri. Her long-term goal is to work as a foreign correspondent covering the Middle East and North Africa.
An alumna of the School established the Homer L. Hall Scholarship to honor her Kirkwood, Missouri, junior high and high school journalism teacher.
Hall, who retired in 1999, chose Brooks from among five finalists, noting that he was especially impressed with her desire "to dispel stereotypes about the Islamic faith, Arabs and political conflicts."
Other finalists were Amberle Garrett, photojournalism; Shiva Hardiman, magazine design; Kendyl Kearly, magazine journalism; and Rose Schmidt, radio and TV journalism.
"Her writing covered a variety of topics, and all articles were clear and easy to follow," Hall said. "I particularly enjoyed the way she localized the Supreme Court decision in the Hobby Lobby case, and her profile on the new Speaker of the House gave readers a lot of insight into a state legislator's life."
A pioneering, award-winning journalism teacher, Hall inspired thousands of students during his 36-year career. A Missouri Teacher of the Year and a Missouri Journalism Teacher of the Year, Hall is one of only two advisers to be recognized as the National Newspaper Adviser of the Year and the National Yearbook Adviser of the Year. His first textbook, "Junior High Journalism," published in 1968 and last revised in 2008, is considered to be the preeminent publication of its kind. Hall graduated from the University of Missouri in 1960 with a bachelor of science degree in education.
Gifts to support the annual Homer L. Hall Scholarship can be made by visiting the Giving to Mizzou website.
Updated: February 10, 2020
Related Stories
Expand All
Collapse All
---