State Winners of Campaign About Dangers of Distracted Driving Recognized at School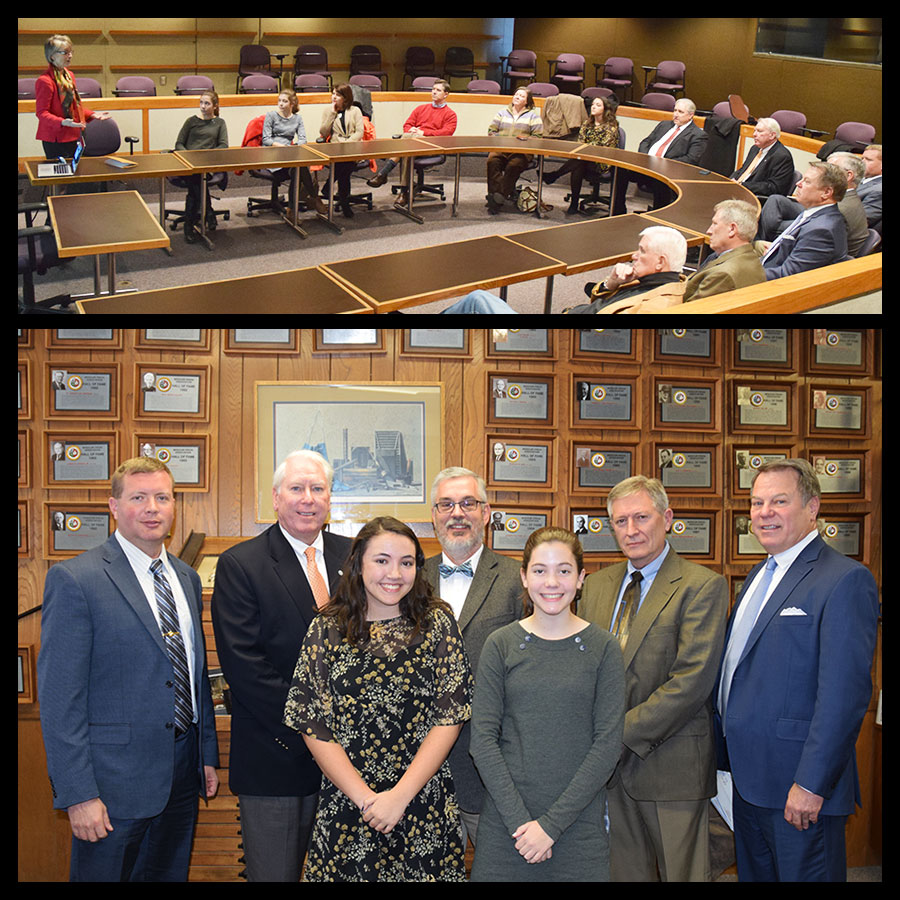 From left, Matt Pritchard and John Sondag, both of AT&T Missouri; Shelby Henderson; Gary Castor, editor of the Jefferson City News Tribune; Grace Craighead; Dave Berry, publisher of the Bolivar Herald-Free Press; and Mark Maassen, executive director of the Missouri Press Association.
Students Urge No-Phone Use in AT&T's 'It Can Wait' Contest Essays
Columbia, Mo. (Dec. 20, 2016) — Missouri winners of AT&T's national "It Can Wait" campaign about the dangers of distracted driving recently visited the Missouri School of Journalism as part of the awards ceremony to recognize them. Participants were challenged to write an editorial or opinion piece that would persuade their peers and others to keep their eyes on the road and not on their phone when behind the wheel of a car.
Shelby Henderson, a junior at Bolivar High School, won in the high school category. Grace Craighead, an 8th grader at Trinity Lutheran School in Jefferson City, won the middle school category. The students, along with their parents and local newspaper publishers, were on hand as John Sondag, president of AT&T Missouri, presented them with a cash prize at the Missouri Press Association in Columbia.
In congratulating Henderson and Craighead, Dean David Kurpius told the students that their essays were examples of public service journalism, which engages citizens in issues affecting them. Kurpius said that a Pulitzer Prize in Public Service is awarded each year and is considered the most prestigious recognition a news outlet can receive.
"I encourage you to keep up to date on the news and stay involved in your school and community," Kurpius said. "You can make a difference where you live."
Henderson and Craighead competed against hundreds of entries submitted by high school and middle school students throughout the state.
Updated: October 9, 2020
Related Stories
Expand All
Collapse All
---