Newspapers across Missouri, America Join in Education Program for Community Journalism Students
Columbia, Mo. (May 7, 2007) — Springtime inspires University of Missouri students to head outside for sports practices and games, to jog off the winter pounds or to work on a tan. But one of the venerable traditions of spring at the Missouri School of Journalism is the annual field trip for students enrolled in The Community Newspaper, a course designed to give students hands-on knowledge of the role newspapers play in local communities.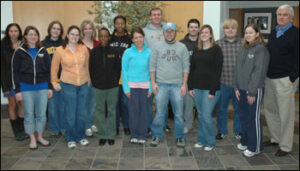 Many of this year's class of 18 students headed out to Missouri's metropolitan and rural areas to work on local newspapers, including those in St. Louis, Kansas City, Washington, Lebanon, Bolivar, Boonville, Fulton, Festus, Eldon, Mexico, Cape Girardeau and Maysville. Others chose out-of-state locations, including three Chicago-area suburban newspapers and those in Beaumont, Texas; Keokuk, Iowa; and New Castle, Pa. Jim Sterling, professor and chair in Community Newspaper Management at the School, teaches the course.
For one week each spring, Sterling's students work for their host newspaper. This experience allows them see the publishing process up close while following the Missouri Method of learning by doing. From field reporting to production, the students do it all.
"Whether it was delivering newspapers to surrounding schools, taking pictures for feature stories or reporting on community events, the internship experience was as diverse as it was informative," said senior Kurt Austin, who worked at the Bolivar (Mo.) Herald-Free Press. "The lessons learned as an apprentice were all educational experiences that would be impossible to teach in the traditional classroom setting."
Rachel Kelly, who worked at the Lebanon (Mo.) Daily Record, was impressed by the multitasking skills of the entire community newspaper staff.
"During my time at the Lebanon Daily Record, I was spread out over many different newsroom functions," Kelly said. "What struck me about my trip is that this wasn't unique to me, but it was taken up by the whole staff. People in the newsroom would write their stories, take the pictures, edit and layout pages."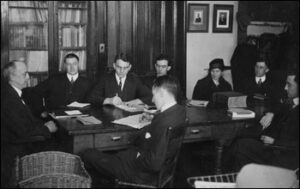 The Community Newspaper Tradition
This tradition of exposing students to working newspapers began when Walter Williams, the School's first dean, created the community newspaper course in the late 1920s. Three decades later, Bill Bray, BJ '48, started teaching the course and introduced a weeklong field trip into the curriculum. As executive director of the Missouri Press Association, Bray, and later his successor Doug Crews, BJ '73, worked with publishers around the state to place their students.
In rural towns such as King City, Mo., students almost took over the newspaper for the week, producing additional advertising sales, news, photos and feature stories. They returned to campus with a new respect for the community editors and publishers and a better understanding of what it takes to produce a small-town newspaper.
The experience inspired some of the students to seek out jobs in publishing and newspaper management after graduation. One was Sterling, BJ '65, who served as the publisher of the Bolivar Herald-Free Press for 31 years.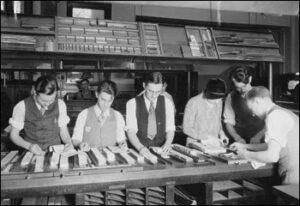 "Going up to King City was a life-changing event for me. It was my teacher, Bill Bray's, hometown, so we felt like we'd better do a good job," Sterling said, remembering his experience. "The high point of the week was designing and selling an ad for the new Ford Mustang, which was introduced that week back in 1964. I took a picture of the local Ford dealer's son showing it off to a couple of his classmates for the ad."
One of the people in the advertisement was Roger Wehrli, BS '70, who went on to be an All-American defensive back with the Missouri football team, a seven-time Pro Bowl selection with the St. Louis Cardinals and a College Football Hall of Fame inductee.
"I always remind him that the pay for his first endorsement was a ride around the block in the Mustang," Sterling said jokingly.
The three interns in 1964 were able to double the usual size of the King City paper, from eight to 16 pages. When the paper came off of the press, and people were waiting in line by the door to get a copy, Sterling had an epiphany.
"I knew when I saw them that this is what I wanted to do in my life," he said.
Newspaper Partnerships Today
Many Missouri newspapers have helped with the program over the years. Since 2001, more than 30 Missouri and approximately a dozen out-of-state newspapers have been involved in the teaching aspects of the class by hosting students for field trips.
"Hosting a field trip helps us to understand what today's J-School students are all about," said Bill Miller Sr., publisher of the Washington Missourian. "That is, their state of readiness to enter journalism, their outlooks on life, their work ethics and overall, their interests in pursuing a career in journalism."
Dave Berry, publisher of the Bolivar Herald-Free Press, has hosted many students in his 30 years at the paper. He said the field trips are a unique opportunity for both the interns and the newspaper staff.
"We've actually hired a couple of editors and even a publisher out of the program," Berry said. "And I know we contributed to some lasting memories for a lot of people who have had the opportunity to come through here for a week and see what the community newspaper is all about."
For senior Nichole Busdieker, the experience left a lasting impression.
"There's nothing like the small town feel, and that's exactly what I got to experience on my working field trip at the Mexico (Mo.) Ledger," Busdieker said. "Getting to work with community members and really tell their stories was incredible, but the freedom my editor gave me to challenge myself was the most beneficial. It was an amazing opportunity to get in, get to work and really learn about the community newspaper."
Updated: April 17, 2020
Related Stories
Expand All
Collapse All
---