Journalism Students Visit Clinton Retailers
Courtesy of the Clinton Daily Democrat
Clinton, Mo. (May 18, 2004) — The Missouri School of Journalism Students who are making the marketing of Clinton a school project, interviewed several businesses on Tuesday, May 18.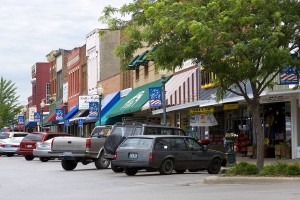 Businesses who participated spent two to three hours with the students, which included answering questions and "show and tell" time, allowing the students to learn a few things about retail stores in rural America.
Students asked the retailers a variety of questions that consisted of history, customer profile, major competition, trends the past three years, and the single most factor threatening their business this year. Some of the students will return to the businesses on May 19 to take some photos.
Businesses on the list to be interviewed were El Sambre, Premier Video and Tanning, Custom Clubs and Repair, Keil's Jewelry, The Shop and W & S Door Company.
Students will present their findings and make suggestions at a luncheon on Friday at Meadowlake, hosted by the Clinton Daily Democrat. The program will be a 150-slide presentation by the students. Mayor Gus Wetzel and Chamber President Dan Wallace will also be in attendance.
Updated: March 16, 2020
Related Stories
Expand All
Collapse All
---