Missouri Journalism Faculty Introduce the Missouri Method to Ukrainian Reporters and Editors
ImpactMedia Program Fosters Quality Economics Journalism and Professional Development
By Caroline Murray
Columbia, Mo. (Nov. 25, 2013) — Jacqui Banasyznski and David Reed from the Missouri School of Journalism were among 16 foreign journalists and experts in economics, business and finance who coached 17 Ukrainian journalists and editors in the ImpactMedia program in Kiev.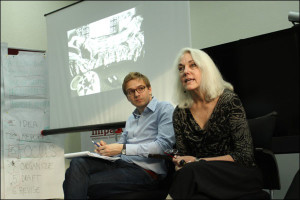 The pilot program consisted of four weeklong modules that took place from July to mid-October. It was created to foster quality economics journalism in Ukraine and provide professional development for the participants.
Topics covered included a variety of areas related to advanced reporting and writing techniques, covering finance and business as well as seminars taught by top managers and owners of some of Ukraine's largest companies.
Those from the School joined other leading international experts from the Boston University College of Communications, Harvard Kennedy School and Oxford University to design the program.
"Journalists in emerging democracies face formidable challenges, both economic and political, and have no history of independence," Banaszynski said. "Being part of this foundational training program was an honor, and I hope is just a first step towards building a robust, professional press that helps Ukraine move forward."
Banasyznski, professor, Knight Chair in editing and a 1988 Pulitzer Prize winner, was the primary adviser of ImpactMedia, and she also served as the chief coach for the first week of the program. Reed, an adjunct professor, was the instructor and editor for the final week of the program. Also on the faculty was Cristian Lupsa, MA '05, editor of Decât o Revista (DoR), a quarterly magazine covering the stories of modern day Romania. Lupsa is a 2013-14 Nieman Fellow at Harvard University.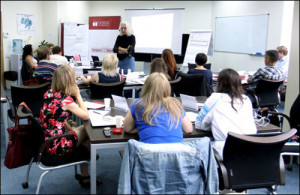 At the culmination of the program, the fellows produced articles that were published in an English-language newspaper, a reflection of how the Missouri Method is used on-campus at the Missouri School of Journalism.
"The program director asked Jacqui and me about how the final project could be used to demonstrate what the fellows had learned during the program, and the three of us decided to make it a real-world media experience," Reed said. "We decided we would have them produce news articles demonstrating what they've learned that would be published in the Kyiv Post."
Training programs for journalists like this are particularly valuable for emerging democracies like Ukraine, Reed said, and he was impressed with the fellows he coached.
"I've done hands-on training for a decade now, and I've never been more impressed by the aspirations and abilities of young journalists," Reed said. "They demonstrated how Ukrainians, as they prepare to become trading partners with Western Europe, can successfully compete on the world's media stage."
Updated: July 21, 2020
Related Stories
Expand All
Collapse All
---