Simina Mistreanu Wins O.O. McIntyre Fellowship, School's Highest Postgraduate Award
Her Yearlong Writing Project Will Be to Develop Stories on Roma, or Gypsies, in the U.S.
Columbia, Mo. (April 18, 2013) — Simina Mistreanu will be able to realize her dream of telling stories about Roma – often known as Gypsies – living in the U.S. as the winner of the 2013 O.O. McIntyre Fellowship.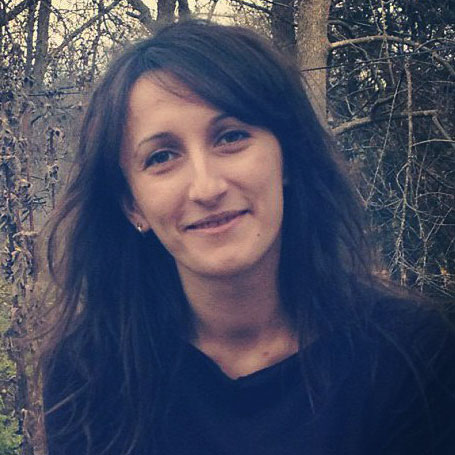 The prestigious postgraduate award offers a $12,000 stipend, paid in monthly installments over a calendar year, to enable a recent Missouri School of Journalism graduate to pursue a writing project. Mistreanu will complete her master's degree in journalism in August.
Mistreanu comes from Romania, one of the countries with the largest populations of Roma in Europe. She thought she knew much of what there was to know about Roma until she interned at the Wichita (Kan.) Eagle during the summer of 2012. While there she met Michael Marks, the king of Gypsies of an extended family of several hundred Roma living in the heart of Kansas.
The Eagle has not written much about Roma – except for occasional police reports. This coverage reinforces the strong clichés that have been associated with the group. Gypsies have repeatedly been portrayed in books, movies and the news media as fortune-tellers, palm-readers and thieves.
Marks presented a different image. His goals are to convince Roma youth to pursue advanced degrees, along with preserving the Romani language and traditions, keep the families together and the children safe.
"I like telling stories of people who are encountering difficulties and trying to find ways to overcome them because they speak of the human condition and the way our society works," Mistreanu said.
Mistreanu plans to write and publish four long-form narrative regional stories about Roma families or individuals in different parts of the U.S., plus an extra story for a national audience.
The roughly one million Romani Americans are concentrated in the Northwest, the Mountain States, around Chicago and New York City. Branches of Marks family, for example, have settled in Oregon, Wyoming, Colorado and Utah.
Mistreanu has plenty of story possibilities. The first Roma to be awarded a doctoral degree now teaches at the University of Texas in Austin. The Huffington Post wrote a brief about a so-called "criminal" Roma network in Chicago. The life of stay-at-home Roma women in Utah is yet another idea.
Misteanu's story about the Marks family will be published in the Eagle this spring. On one of her reporting trips to Wichita, Marks asked Misteanu if she knew why he allowed her to write their story. He told me it was because I told him that his family's story was valuable, and that part of it will disappear unless it's told, Misteanu said.
"It seems that some people have more opportunities to tell their stories than others," Misteanu said. "The underdogs are rarely listened to, especially when the frame through which we see them is rooted in a strong cliché. I see it as a challenge and an adventure to help readers see beyond that."
The McIntyre Fellowship is the perfect vehicle to support Simina's vision of writing about the misunderstood, misbegotten Roma people, said Berkley Hudson, associate professor of magazine journalism.
"Simina is still learning to be a reporter and a writer, but she already has that intangible quality that cannot be taught – curiosity," he said.
Mistreanu earned her bachelor's degree in journalism from the University of Bucharest. As a graduate student at the Missouri School of Journalism, she is currently serving as an assistant city editor at the Columbia Missourian, one of the School's professional newsrooms.
Previously Mistreanu was an associate editor at Decat o Revista, an independent Romanian magazine; a contributing writer at Esquire Romania magazine; a reporter at the online business daily Wall-Street-ro; and a reporter at the bilingual student newspaper The Bullet, a project for the Center for Independent Journalism.
Mistreanu has been the recipient of numerous grants and awards. She was the winner of the Romanian Press Club Award for best feature writing, received a Junior Fulbright Award to the U.S. for 2011-12, won the Grand Prix at the Civil Society Gala for a fundraising campaign to raise money to build a leukemia treatment center, and was a national finalist at the EU Health Prize for Journalists 2010, organized by the European Commission.
About the O.O. McIntyre Fellowship
O.O. McIntyre was one of the most widely known New York columnists during the 1920s and 1930s. His column, "New York Day by Day," was syndicated to 508 newspapers in every state, Canada and Mexico. Born in Plattsburg, Mo., McIntyre was raised in Gallipolis, Ohio, where he got his start in newspapers as a reporter for $5 a week. McIntyre died in 1938, and his widow, Maybelle, left part of his estate to the Missouri School of Journalism. In her will, she established the O.O. McIntyre Postgraduate Writing Fellowship to help aspiring writers.
Updated: July 15, 2020
Related Stories
Expand All
Collapse All
---