Missouri School of Journalism Graduate Wins $12,000 O.O. McIntyre Fellowship
Columbia, Mo. (May 23, 2008) — The story of Bob O'Brien is one Doug Meigs, BJ '07, can hardly wait to tell. As the son of a Mandan tribal leader and of a nun who once worked on the Fort Berthold Indian Reservation in North Dakota, O'Brien grew up an orphan in Minnesota, uncertain of where he came from.
It wasn't until he saw his adoption records that O'Brien learned he was the son of Arthur Mandan, the first chairman of the Tribal Council of the Three Affiliated Tribes of the merged Mandan, Hidatsa and Arikara tribes. O'Brien also learned he was the grandson of Running Face and great-grandson of Chief Red Buffalo Cow, the last recognized Mandan chief.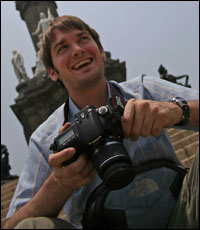 Meigs' desire to tell the story of this lost son's American Indian heritage helped him win the $12,000 O.O. McIntyre Postgraduate Writing Fellowship offered by the Missouri School of Journalism. The annual fellowship was established in 1986 to help aspiring writers further their careers. It will allow Meigs to travel to the Fort Berthold Reservation in North Dakota to write a book on O'Brien.
To be eligible for the fellowship, students must have earned a recent bachelor's, master's or doctoral degree from the School of Journalism. Selection is based on several criteria, including a narrative explaining the nature of the research and writing; a project timetable and budget; letters of reference from journalism faculty; and examples of published work. In Meigs' application, he proposed to introduce O'Brien's life as it is today, followed by flashbacks of his childhood at the orphanage. Subsequent chapters will explore O'Brien's mother, father, brothers and sisters, as well as a history of the Mandan people.
Originally from Omaha, Neb., Meigs first met O'Brien in 2006 through a family friend, an editor who pitched him the story.
"During the fall and winter of 2006, I spent a great deal of time interviewing Mr. O'Brien in Omaha," Meigs said. "However, with my heavy coursework, I was unable to commit the time that the story needed."
Meigs began work on O'Brien's story while enrolled in Professor Steve Weinberg's intermediate writing class and continued while in Assistant Professor Berkley Hudson's advanced writing class.
"In the beginning, I was especially excited about the story because one of my favorite photographers, Zig Jackson, is of Mandan, Hidatsa and Arikara descent. He has a number of photographs in the Joslyn Art Museum in Omaha, and I had interviewed him for a cross-cultural journalism project the previous year," Meigs said.
Meigs' writing experience began at the Omaha World-Herald, where he was an editorial assistant for a supplementary magazine and part-time copy editor on the newspaper's sports night desk. He gained more exposure to the newsroom environment at the Columbia Missourian, the School's real-world daily newspaper staffed by students. There, Meigs worked on the sports beat under professors Greg Bowers and Grant Hodder. Meigs also has done freelance work for Missouri publications such as the Springfield News-Leader, the Columbia Business Times and the Columbia Daily Tribune.
Additionally, Meigs has worked at the School's two professional magazine outlets: Vox, an arts and culture weekly, and Global Journalist, a quarterly magazine that serves international journalists. While there, he worked under the guidance of managing editor Patricia Smith and Professor Stuart Loory.
In September, Meigs plans to move to the Fort Berthold Reservation in North Dakota where he will live for at least seven months as he tells O'Brien's story.
"The McIntyre Fellowship is an enormous honor, and I am grateful to the University of Missouri School of Journalism for giving me this opportunity," Meigs said. "As far as my hopes for this project, I look forward to gaining a better understanding of the Mandan people's legacy on the American landscape and writing about the remarkable American who is Bob O'Brien."
About the O.O. McIntyre Fellowship
O.O. McIntyre was one of the most widely known New York columnists during the 1920s and 1930s. His column, "New York Day by Day," was syndicated to 508 newspapers in every state, Canada and Mexico. Born in Plattsburg, Mo., McIntyre was raised in Gallipolis, Ohio, where he got his start in newspapers as a reporter for $5 a week. McIntyre died in 1938, and his widow, Maybelle, left part of his estate to the Missouri School of Journalism. In her will, she established the O.O. McIntyre Postgraduate Writing Fellowship to help aspiring writers.
Updated: April 27, 2020
Related Stories
Expand All
Collapse All
---