Ty Stewart awarded O.O. McIntyre Fellowship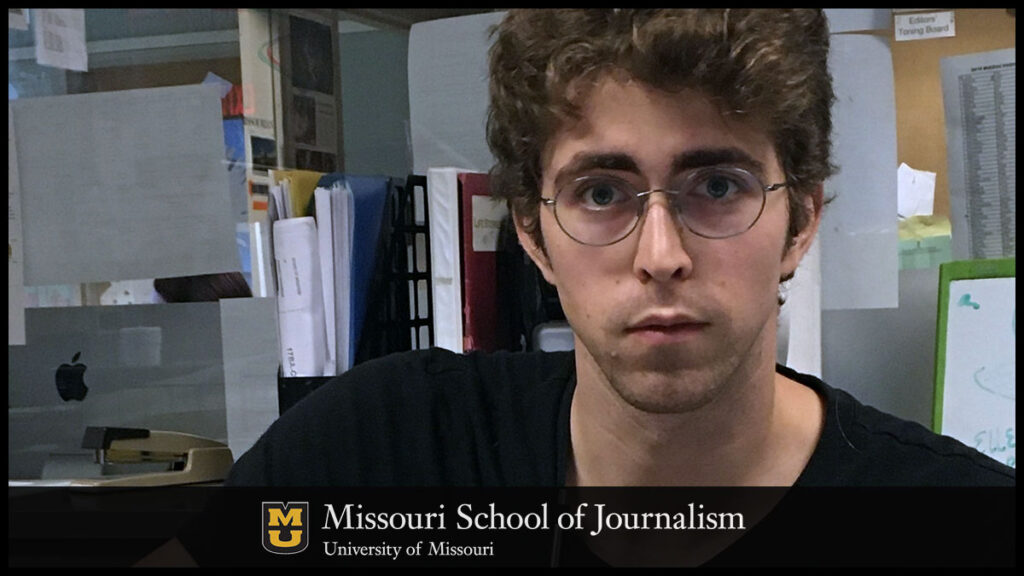 Working for the Columbia Missourian and the St. Louis Post-Dispatch allowed Mizzou alumnus Ty Stewart, MA '19, to hone his prose to the point that he won the $12,000 O.O. McIntyre Fellowship, the most prestigious postgraduate award given by the J-School.
The honor is the highest postgraduate award offered by the School.
Columbia, Mo. (June 8, 2020) — Missouri School of Journalism graduate Ty Stewart, MA '19, has won the O.O. McIntyre Fellowship, the most prestigious postgraduate award given by the School.
The program's one-year, $12,000 stipend allows a recent graduate to delve deep into a reporting and writing project. During the next year, Stewart plans to document the past, present and possible futures of Missouri HIV laws and tell the stories of people who've lived in the shadow of those laws.
"On the surface, the state's criminal laws penalize 'reckless' transmission of HIV, which causes Acquired Immunodeficiency Syndrome, or AIDS," said Stewart. "But the laws are clearly broken. They target people for doing things that don't actually pass on the virus, like biting and spitting. While scientific understanding of how the virus works has improved, the laws have not."
Stewart will focus his reporting on Midwestern states, looking closely at Kansas and Missouri, and he will explore how they fit with or break from national trends. He plans to examine what happens when science and medicine meet stigma and fear.
"This funding will give me the stability and time to tell these stories," said Stewart. "It'll be the most ambitious writing project I've attempted yet – a prospect that's both nerve-wracking and very exciting."
Stewart said he became a journalist because "I want to tell stories that embrace nuance and complexity."
"(His project will) no doubt contribute to a broader public understanding of the intersection of law and medicine with HIV/AIDS, a subject that many choose to ignore these days," said Berkley Hudson, associate professor emeritus and Stewart's thesis adviser "His McIntyre research, reporting and writing will shine a light so that we all may better see a critical issue that still remains to be solved."
Stewart, originally from Hattiesburg, Mississippi, has spent the last three years as a newspaper reporter. He first worked at the Journalism School's community newspaper, the Columbia Missourian, and then at the St. Louis Post-Dispatch.
"Working for the Missourian and now the Post-Dispatch, I've been able to hone my prose," said Stewart. "Both papers have given me crucial practice in developing sources. Some of my stories have been lengthy by newspaper standards, but I've always had to sacrifice complexity in favor of brevity and deadline demands."
With his fellowship, Stewart is eager to write long-form narratives about how ordinary people can live with dignity while dealing with forces beyond their control and continue to evolve his skills. "Having a year to focus on my own writing would help me move from simply reporting the news to doing journalism," said Stewart.
"I want to thank the faculty at the Journalism School, especially the editors at the Missourian," said Stewart. "They taught me the craft of journalism, and their mentorship prepared me to take on this challenge."
About the O.O. McIntyre Fellowship
O.O. McIntyre was one of the most widely known New York columnists during the 1920s and 1930s. His column, "New York Day by Day," was syndicated to 508 newspapers in every state, Canada and Mexico. Born in Plattsburg, Missouri, McIntyre was raised in Gallipolis, Ohio, where he got his start in newspapers as a reporter for $5 a week. McIntyre died in 1938, and his widow, Maybelle, left part of his estate to the Missouri School of Journalism. In her will, she established the O.O. McIntyre Postgraduate Writing Fellowship to help aspiring writers.
Updated: November 13, 2020
Related Stories
Expand All
Collapse All
---