Sara Shahriari Wins $12,000 O.O. McIntyre Fellowship
Master's Student Will Document the Land Reform Process in Bolivia
Columbia, Mo. (May 13, 2009) — Sara Shahriari, a graduate student in the Missouri School of Journalism, has won the 2009 O.O. McIntyre Fellowship award.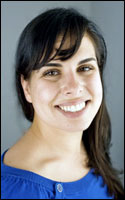 Shahriari will use the award in the fall of 2009 to document the land reform process in Bolivia. Bolivian President Evo Morales has promoted reforms that could transfer unused land from wealthy farmers to poorer citizens, sparking intense debate. In the months leading up to his probable re-election in December, Shahriari will live with families of different classes and will use multimedia tools to record their perspectives on Morales' reforms.
"This is a tremendous opportunity to begin a freelance career with enough funding to do in-depth reporting on reforms and an election that will influence the lives of all Bolivians and have deep effects on relations between Bolivia and the U.S," she said.
Shahriari, who is originally from Villanova, Penn., studied English literature at the University of Pennsylvania. After graduating in 2001, she worked at a public interest law firm, taught English in the Marshall Islands and Ecuador, and wrote educational magazines for children before beginning her graduate studies at the School.
During her time at the School, Shahriari served as vice president of the Journalism Graduate Students Association and reported for the Columbia Missourian's enterprise beat under Associate Professor John Schneller. She also worked for Adelante, a news outlet serving mid-Missouri's Hispanic community, guiding its transition from print to a radio format.
Assistant Professor Katherine Reed said she is thrilled that Shahriari will continue to use her strong Spanish-language and reporting skills. Reed worked closely with Shahriari at Adelante.
"Sara has practically run Adelante and Radio Adelante over the past year and a half, and she's been impressive. I have no doubt that she will make the most of the fellowship as she pursues her reporting project in Bolivia," Reed said.
Before attending graduate school, Shahriari had written exclusively for print publications but soon discovered new media platforms through her coursework. "I fell in love in with the different creative possibilities of radio," she said, "and my enthusiasm for soundslides just keeps growing." Soundslides is a production tool used in still images and audio Web presentations.
In Bolivia she will work with Missouri Journalism master's student Steve Remich, who will use photography and video to tell stories. Shahriari will write print articles of varying lengths, radio stories and compose soundslides. The materials will be published by KBIA, mid-Missouri's NPR-member station. Readers can follow the Shahriari's blog at www.sarashahriari.com. She also hopes to publish her reports in major newspapers.
Through this project Shahriari will work to establish herself as a correspondent in Latin America. "So many news organizations can't afford to send someone to Bolivia to do this time-consuming reporting right now, but with the McIntyre Fellowship, I have a chance to focus on the issue and test my skills in the field," she said. "I'm grateful to the McIntyre family for investing in the careers of young journalists and to the school for recognizing me. Now that I've gotten over the shock of winning, I can't stop making plans."
About the O.O. McIntyre Fellowship
O.O. McIntyre was one of the most widely known New York columnists during the 1920s and 1930s. His column, "New York Day by Day," was syndicated to 508 newspapers in every state, Canada and Mexico. Born in Plattsburg, Mo., McIntyre was raised in Gallipolis, Ohio, where he got his start in newspapers as a reporter for $5 a week. McIntyre died in 1938, and his widow, Maybelle, left part of his estate to the Missouri School of Journalism. In her will, she established the O.O. McIntyre Postgraduate Writing Fellowship to help aspiring writers.
Updated: May 4, 2020
Related Stories
Expand All
Collapse All
---