Master's Student Wins $12,000 McIntyre Fellowship
Tony Schick Will Examine Lives of People Living Poverty in Missouri
Columbia, Mo. (April 30, 2012) — Tony Schick, a Missouri School of Journalism master's student, is the winner of the 2012 O.O. McIntyre Fellowship.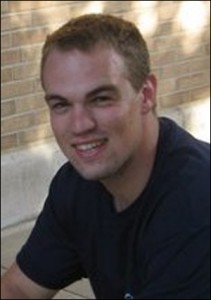 Schick will use the $12,000 award to explore pockets of Missouri to beyond statistics into the lives of people living in poverty. The title of his project is "Poorly Defined."
One of the drivers of Schick's idea was his reporting done from Missouri's Bootheel in the wake of the levee breach on the Mississippi River in 2011 – especially his time with the scattered residents of the flooded town of Pinhook. That and foundational reporting for The American Next project piqued Schick's curiosity about how the governmental and statistical definitions of poverty play out on the ground. Does a family of four living in poverty in small-town Missouri face the same challenges as a family of four living in poverty is St. Louis? Are you really poor if you make poverty-level wages but still own a television and a microwave? How much of poverty is a function of geography, of circumstance, of opportunity or of attitude?
"I feel honored, humbled, and reminded that I've got quite a bit of work to do," said Schick.
Schick plans to pitch his project to several major magazines, but before that will build his own website and post stories, photos and graphics as he reports.
A native of Portland, Schick earned his bachelor's degree in journalism and sociology at Gonzaga University in Spokane Wash.
About the O.O. McIntyre Fellowship
O.O. McIntyre was one of the most widely known New York columnists during the 1920s and 1930s. His column, "New York Day by Day," was syndicated to 508 newspapers in every state, Canada and Mexico. Born in Plattsburg, Mo., McIntyre was raised in Gallipolis, Ohio, where he got his start in newspapers as a reporter for $5 a week. McIntyre died in 1938, and his widow, Maybelle, left part of his estate to the Missouri School of Journalism. In her will, she established the O.O. McIntyre Postgraduate Writing Fellowship to help aspiring writers.
Updated: June 8, 2020
Related Stories
Expand All
Collapse All
---