O.O. McIntyre Postgraduate Writing Fellowship Allows Journalism Student to Pursue His Passion
Columbia, Mo. (April 25, 2005) — Adam Williams can now devote his time and energy to his passion of photography and writing, rather than to another job just to make ends meet. As the recipient of the O.O. McIntyre Postgraduate Writing Fellowship, Williams will receive $12,000 to help further his career in writing for one year.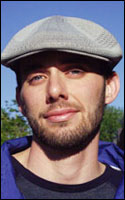 Williams, a Missouri School of Journalism graduate student, will pursue a year of independent writing after he graduates. He will receive $1,000 a month to help him complete his writing project.
"I've begun the long road many writers must follow, spending twice as much time at a bill-paying job as one does writing early in the morning before work and in the late evening hours before bed, to progress in their careers. The O.O McIntyre Postgraduate Writing Fellowship will enable me to improve that condition," Williams said.
Williams wants to write a book that fits into the travel essay genre. He will drive 12,000 miles during 14 weeks through 25 states. He says America needs to know what's been happening, of late, across her vast heartland.
"As a writer and photojournalist, I seek to tell the story of Flyover Land, an oft-overlooked piece of America seen by many only as they jet between the coasts, from one urban hub or tourist destination to another," Williams said.
Thanks to the O.O. McIntyre Writing Fellowship, Williams now has the financial means to tell this story. To be eligible for the fellowship, applicants must have earned a bachelor of journalism, master of arts (journalism) or doctor of philosophy (journalism) degree during the previous year. Selection for the fellowship was based on a one-page statement of purpose, a narrative that explains the nature of the research and writing, a project timetable and budget, letters of reference from journalism faculty, examples of published work, applicant's financial need and resume.
O.O. McIntyre was one of the most widely known New York columnists during the 1920s and 1930s. His column, "New York Day by Day," was syndicated to 508 newspapers in every state, Canada and Mexico. Born in Plattsburg, Mo., McIntyre was raised in Gallipolis, Ohio where he got his start in newspapers as a reporter for $5 a week.
McIntyre died in 1938, and his widow left part of his estate to the Missouri School of Journalism. In her will, she established the O.O. McIntyre Postgraduate Writing Fellowship to help aspiring writers like Adam Williams.
Updated: April 6, 2020
Related Stories
Expand All
Collapse All
---