Earnest Perry Wins the O.O. McIntyre Professorship for Teaching Excellence
The Award Comes with a $10,000 Salary Supplement for Next Academic Year
Columbia, Mo. (May 21, 2015) — Associate Professor Earnest Perry is the 2015 winner of the O.O. McIntyre Professorship at the Missouri School of Journalism. The award recognizes teaching excellence and comes with a $10,000 salary supplement for the 2015-16 academic year.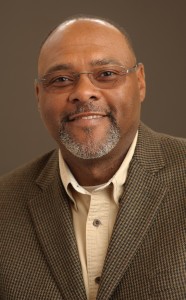 Several nominators cited Perry's ability to connect with students in the Cross-Cultural Journalism course, arguably one of the most difficult classes to teach at the School. "Earnest has been very successful at winning students over and helping them learn more than they ever thought they would. And he's developed a track record for doing this year after year," noted one.
Perry's teaching and willingness to mentor students were cited as exemplary. One nominator said: "He established the doctoral teaching program and is so devoted to helping our doctoral students improve their teaching skills and enhance their overall professional performance." Another noted: "In addition to being a fantastic teacher and accomplished historian, his mentorship of junior faculty and doctoral students makes him even more deserving of this award."
In terms of scholarship, nominators cited Perry's national reputation for studies on race and media as well as the significant amount of time he has given to the conversation about race relations on the University of Missouri campus. Perry's leadership and service on numerous national, university and school committees, including serving as the president of American Journalism Historians Association, were other reasons given by nominators.
Perry joined the school in 2003. He earned his master's degree in 1995 and doctorate in 1998, both from MU. He is the former chair of the Standing Committee on Research for the Association on Education in Journalism and Mass Communication. He currently serves on the AEJMC Standing Committee on Teaching. On campus Perry served as vice president of the Graduate Faculty Senate and finance committee chair of the Intercollegiate Athletic Committee during the transition from the Big 12 to the Southeastern Conference.
In the classroom along with serving as lead instructor for Cross-Cultural Journalism, Perry teaches undergraduate journalism history, Mass Media History: The Media and Civil Rights, Historical Methods and Media Ethics. He is a civil rights historian focusing specifically on the Black Press during the long civil rights struggle of the 20th Century. Perry has published articles on history, media management and teaching in several journals including American Journalism, Journalism History, Journalism and Mass Communication Quarterly and Journalism Educator.
Perry has also conducted research and led seminars on the media's role in serving underrepresented groups and the lack of ethnic minority journalists in the mainstream media. He worked for nearly 10 years as a journalist for newspapers in Illinois, Connecticut and Texas. For more than 20 years, Perry has worked with ethnic minority high school journalists in summer workshops in Texas, Missouri and Oklahoma.
About the O.O. McIntyre Professorship
The professorship is named for O.O. McIntyre, one of the most widely known New York columnists during the 1920s and 1930s. His column, "New York Day by Day," was syndicated to 508 newspapers in every state, Canada and Mexico. Born in Plattsburg, Mo., McIntyre was raised in Gallipolis, Ohio, where he got his start in newspapers as a reporter for $5 a week. McIntyre died in 1938, and his widow left part of his estate to the Missouri School of Journalism. In her will, she established the O.O. McIntyre Postgraduate Writing Fellowship to help aspiring writers and the O.O. McIntyre Professorship to recognize outstanding educators.
Winners of the O.O. McIntyre Professorship
Updated: August 26, 2020
Related Stories
Expand All
Collapse All
---