Missouri Faculty, Alumni, Students Publish New Textbook on Cross-Cultural Journalism
The Book Will Help Journalists, Strategic Communicators Produce Work That Resonates with Audiences They Serve
Columbia, Mo. (Jan. 6, 2016) — An introductory textbook designed to teach college students how to write about and communicate with people of backgrounds different from their own has just been published.
"Cross-Cultural Journalism: Communicating Strategically About Diversity" is edited by Earnest Perry, associate professor at the Missouri School of Journalism, and Maria Len-Rios, associate professor at the Grady College at the University of Georgia.
The new book builds on the hands-on reporting style and curriculum pioneered by the Missouri School of Journalism. The real-world examples provide instruction on how to practice excellent journalism and strategic communication that takes culture into account.
"To get it right, people need to know how to evaluate information and find the right research as well as how to interact with people who hold different beliefs, opinions, life experiences and attitudes," Perry said. "This book is intended to help them produce great story ideas and campaign strategies that resonate with the lived experiences of the audiences they serve."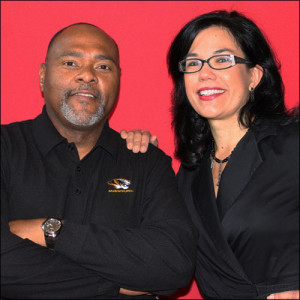 Perry, MA '95, PhD '98, worked as a newspaper journalist in Texas, Connecticut and Illinois before pursuing his master's and doctoral degrees in journalism from Missouri. He is the lead instructor of the School's cross-cultural course, which began in 1998 and was one of the first required journalism diversity courses in the country. Perry is a member of the School's journalism studies faculty.
Len-Rios, PhD '02, worked in advertising and public relations in Atlanta before earning her doctorate in journalism from Missouri. She taught the cross-cultural course at Missouri for 10 years before moving to Georgia.
Experienced educators and practitioners developed many of the concepts, examples and exercises in the book. These include current faculty members Associate Professor Cynthia Frisby; Associate Professor Amanda Hinnant, MA '99; Associate Professor Beverly Horvit, MA '96, PhD '99; Professor Debra Mason; Assistant Professor Ryan Thomas and Associate Professor Yong Volz.
Alumni contributing to the book are Saleem Alhabash, MA '08, PhD '11; Teri Finneman, MA '10, PhD '15; Gary Hicks, MA '89; Yulia Medvedeva, MA '08; and Chad Painter, PhD '12.
Doctoral student Marina Hendricks also contributed to the book.
Updated: September 14, 2020
Related Stories
Expand All
Collapse All
---