Randy Smith Receives President's Award for Cross-Cultural Engagement
Award Recognizes Faculty Who Promote Cross-Cultural Engagement Through Education, Research and Service
Columbia, Mo. (April 15, 2016) — Randall Smith, professor and Donald W. Reynolds Endowed Chair in Business Journalism at the Missouri School of Journalism, is a 2016 winner of the University of Missouri System President's Award for Cross-Cultural Engagement. Senior Associate Vice President for Academic Affairs Steve Graham awarded Smith the third of nine President's Awards to be given this year.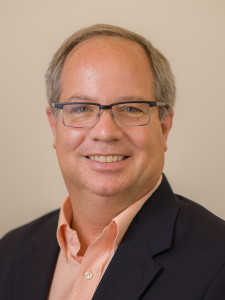 Graham surprised Smith in front of students gathered for his class with the President's Award, which includes a $5,000 prize. The award recognizes faculty who promote cross-cultural engagement through education, research and service.
Since 2009, Smith has worked tirelessly to enhance the educational opportunities of MU students, both at home and abroad, showing a deep commitment to cross-cultural engagement. Some of Smith's greatest cross-cultural accomplishments are linked to his work on behalf of the Alfred Friendly Press Partners, a leader in preparing journalists worldwide for the ethical practice of providing news to information-hungry societies. Last April, Smith successfully established the Missouri School of Journalism as the organization's new home, making the campus a training hub for journalists from around the world.
"Professor Smith has a passion and a knack for advancing programs, then finding ways to merge them with new opportunities for students," wrote nominator Lynda Kraxberger, associate dean for undergraduate studies and chair of convergence journalism at the School. "I'm continually impressed by his prolific service."
Smith launched a study abroad experience for the School's students in South Africa, conceived the Society of American Business Editors and Writers Endowed Chair in Business Journalism at MU, and founded Missouri Business Alert as the first teaching platform for business journalism at the School. For the last two years, Smith has worked in Algeria with the U.S. State Department to enhance journalism education throughout the country, fostering a budding partnership with the University of Algiers.
"Professor Smith is arguably the most inspiring professor I ever had," wrote nominator Francesco Marconi, manager of strategy and corporate development at the Associated Press. "His classes are engaging, his network is vast, and his desire to help students and elevate our university is beyond admirable."
Smith regularly lectures and teaches classes abroad. In the last five years, he has done so at universities and newsrooms in four Chinese cities, eight in Algeria, two in South Africa, two in Uganda, five in Kenya and three in Korea, among others. He has also led more than 10 medical delegations to El Salvador where his work has resulted in permanent clinics for dentistry, women's healthcare and general medicine.
Prior to joining MU, Smith enjoyed a 30-year career at The Kansas City Star where he began in 1979 working on both the news and business sides. As an editor, Smith worked with award-winning newsroom teams that have earned the profession's top awards and honors, including a Pulitzer Prize in 1982. He has received a Sigma Delta Chi award, an Eppy award, a Philip Meyer Award, 12 Missouri Press Association Gold Cups, a Nancy Dickerson Whitehead Award and the Faculty-Alumni Award from the Mizzou Alumni Association.
The UM System President's Awards are presented annually to faculty members across the four campuses of the UM System who have made exceptional contributions in advancing the mission of the university. Smith will be formally recognized by UM System Interim President Michael Middleton during an awards celebration to be held in June.
Updated: September 24, 2020
Related Stories
Expand All
Collapse All
---