MU Cross-Cultural Journalism Course Available in Kansas City via Internet Video
Columbia, Mo. (March 20, 2009) — The Missouri School of Journalism is now expanding one of its required course offerings to the University of Missouri-Kansas City. Journalism professors at the School coordinate curriculum and transmit the Cross-Cultural Journalism class discussions across the state via Internet video.
The overall goal of the course is to provide students with concepts and tools to help them practice excellent journalism in an increasingly diverse society.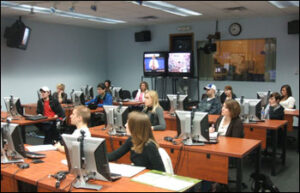 "We're trying to teach future journalists that excellent journalism means including a wide range of voices in news coverage," said Beverly Horvit, an instructor on the Columbia campus who teaches the lecture via Internet video. "Our environment is increasingly diverse, and a variety of perspectives helps society solve complex issues."
Freshman Garrett Bergquist said he thinks the class is teaching him a lot of relevant information.
"With such a global society that we're in," he said, "you do have to know how to talk across differences."
The idea for teleconferencing the class came about two years ago when Earnest Perry, Missouri Journalism Studies faculty chair, attended a professional development conference with Peter Morello, an associate professor of communication studies at UMKC. The two decided to create a teleconference of the School's cross-cultural journalism course. Once the technology caught up with their idea, the plan was in place. This semester is the first for the experimental class.
For students who are thinking about transferring to the University of Missouri to major in journalism, the course offers another potential advantage – money savings. Students transferring from the UMKC program will have one less journalism course to worry about. There are plans to add a class at St. Louis Community College-Florissant Valley to the teleconference next fall.
"In this day and age, we expect an increase of students who start attending college in Kansas City or St. Louis and then transfer here," said Brian Brooks, associate dean for undergraduate studies and administration. "And if all goes well, students will transfer to our campus and will be better able to move into the program."
Journalism degrees from the University of Missouri require that all journalism classes be taken from the Columbia campus. Journalism credit is not accepted from other schools, except now through this program.
"With the budget crisis and everything going around, this kind of partnership will help the students and both schools save money," Morello said. "Guest speakers from Kansas City and Columbia can talk to both classes."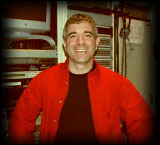 Morello said the course is working out well for his class of about 22 students. After the lecture students from both sections exchange questions and comments. The classes read the same text, and each professor grades independently.
Journalism student Gretchen Mahan, who plans to graduate in 2011, says she enjoys the class and has never taken a course like this before.
"By doing it this way, we can get the opinion of the other professor, who often has beneficial thoughts," she said. "Without the teleconferencing, we would not be able to benefit from his experiences and thoughts."
With all the technology on both ends, Horvit said she's been impressed with how everyone has adjusted to using it. About 170 students are in her section.
"I think the students at MU and UMKC enjoy the opportunity to interact with each other, and each class period seems to get a little more interactive," she said.
Morello said both campuses add diversity to the conversations.
"UMKC students get to experience a world-class journalism school, and MU students get an immediate urban setting," he said.
Morello said he believes the class is moving in a "win-win" direction.
"The country is increasingly becoming more diverse," he said. "If we don't teach appreciation of where our country is heading, our students will be hurting for this."
Updated: May 1, 2020
Related Stories
Expand All
Collapse All
---