Missouri Alumni Share Advice with High School Students about College-Level Journalism
Be Persistent, Be Passionate and Build Your Portfolio, the Group Encouraged
San Francisco (May 28, 2013) — Five Missouri School of Journalism alumni talked to a packed room of high school students from around the U.S. about what to expect from a college-level journalism program, emphasizing the importance of starting early on developing expertise and a following.
"Be vocal about what you're passionate about," Greg Miller, BJ '05, told the group. "Make your work special."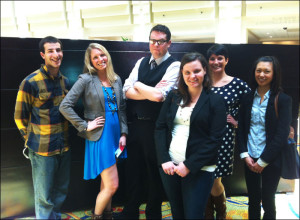 That formula has worked for Miller who's realizing a life's ambition at his job with IGN, an international, multimedia entertainment website that focuses on video games, movies and television. After picking up an issue of Game Pro magazine when he was in fourth grade, Miller knew what he wanted to do, he said. But it took persistence and a focus on portfolio-building to make it happen. He's now IGN's PlayStation executive editor and has 70,000 followers on Twitter.
Persistence, passion and building a portfolio were themes throughout the session, organized by Suzette Heiman, a professor and the School's director of planning and communications, for the Journalism Education Association's three-day spring conference in San Francisco. The biannual event draws students, teachers, advisers, guidance counselors and exhibitors from all over the country. Attendance at the San Francisco conference in April was approximately 4,100, the association said.
Cate Kelly, BJ '10, talked about the importance of gaining as much experience as possible to get a jump on the competition in the job market.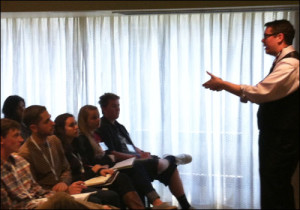 "Get that portfolio, get that tape," she said. "Internships are invaluable, so make the most of them."
Kelly, who works as a producer at KCRA-TV in Sacramento, noted that she became interested in journalism while enrolled in her middle school's broadcast program. Kelly studied radio-television journalism at the School and gained hands-on experience at KOMU-TV. The station is the only university-owned commercial television station that uses its newsroom as a working lab for students. All of this positioned her to land a job in the No. 20 market in the U.S. soon after graduation.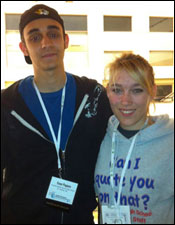 Getting an early start took the form of a blog for Jordan Novet, BJ '09, who created one on LiveJournal after 9/11 and found that he'd built a bit of a following – enough to prompt some encouragement from his father. He told the high-schoolers to set a goal, find a mentor, build a community, read and write a lot, and embrace the unfamiliar.
"You need to go after the things you're uncomfortable with," he said. "Deep satisfaction comes from pushing past fear." Novet covers cloud computing for GigaOM, a tech news site.
Being numb to rejection doesn't hurt, either. Miller talked about how it took 13 tries to get hired by IGN. When he asked why the 13th attempt was successful, his new employer told him it was simple: He finally had enough experience.
"Start right now building your portfolio and honing your voice," he said, "and don't let anyone tell you that you can't do it – whatever it is."
Xenia Shih, BJ '09; Sarah Frueh, BJ '12; and Temple alumna Allison Kennedy also took part in the panel. Shih works for Gooru, a nonprofit educational technology company; Frueh works for North of Nine PR agency; and Kennedy is with Vayner Media, a startup brand consulting agency that specializes in social media.
Heiman and Associate Professor Katherine Reed visited with several hundred prospective students and high school journalism advisers during the JEA conference.
Updated: July 16, 2020
Related Stories
Expand All
Collapse All
---