School to welcome 1,200-plus high school students to campus for J-Day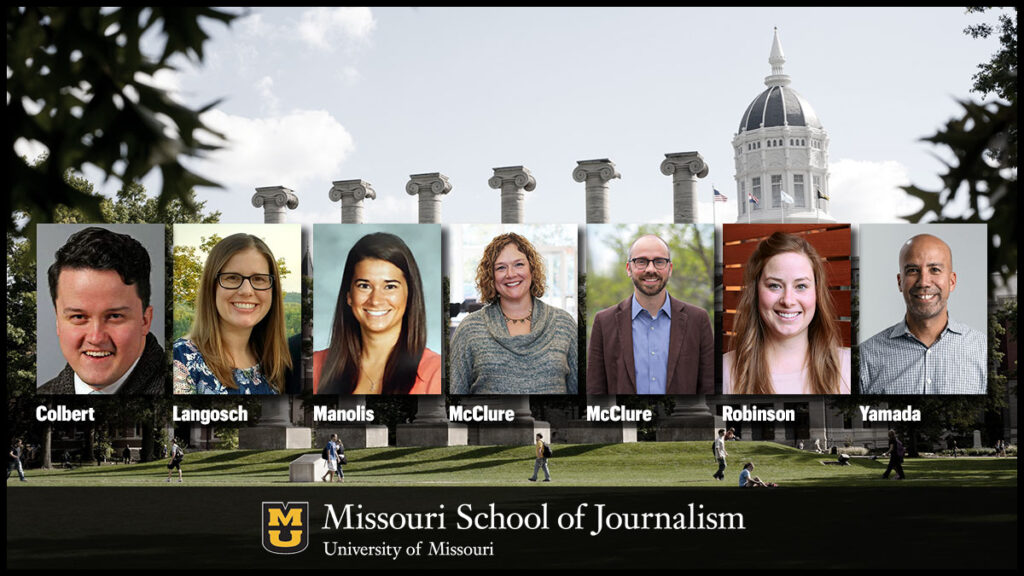 J-Day Cancelled
Updated March 12, 2020: Out of an abundance of caution and in consultation with Missouri Interscholastic Press Association and MU campus leaders about COVID-19 precautions, Scholastic Journalism Day – J-Day – on Wednesday, March 25, is cancelled. Visit https://mipajournalism.com/ for more information and updates.
For Mizzou's latest information on COVID-19, visit MU Alert.
---
Scholastic Journalism Day will be held on March 25 on the Mizzou campus
Columbia, Mo. (Feb. 28, 2020) — Missouri high school students enrolled in journalism classes will have the opportunity to develop their skills, discuss timely topics and receive awards at Scholastic Journalism Day – #JDay2020 – on Wednesday, March 25, on the University of Missouri Columbia campus.
The annual event is sponsored by the Missouri Interscholastic Press Association, which is headquartered at the Missouri School of Journalism. Professor Suzette Heiman and Associate Professor Ron Kelley serve as co-executive directors.
More than 1,200 students from around the state will learn from professional journalists, educators and others on subjects related to broadcast, design, documentary journalism, editing, leadership, legal issues, nonprofit, photography, sports journalism, storytelling, strategic communication, writing and yearbook.
This year's program will be one for the record books, according to Christina Geabhart, current MIPA president and journalism adviser at Oak Park High School, Kansas City.
"We've added fresh content including more hands-on sessions, more roundtables and a brand-new strategic communication scavenger hunt while keeping favorites such as the onsite photo contest and awards ceremony," she said.
Students and advisers also will be able to take tours of campus and the Missouri School of Journalism. Separate sessions will be available to advisers.
The critical role of journalism in a democracy highlights the importance of the event, noted David Kurpius, dean of the Missouri School of Journalism.
"High school students are taught all aspects of the U.S. constitution, especially the entirety of the First Amendment that supports a free press and free speech," he said. "We appreciate and support all that their teachers do to build a strong foundation in these core values."
Several of the School's alumni will be among the presenters. These include:
Ethan Colbert, BJ '15, reader interest reporter for The Herald-Whig in Quincy, Illinois.
Jenifer Langosch, BJ '07, senior content manager for MLB.com.
Julie Lewis, BJ '01, instructor at the University of Central Missouri, Warrensburg.
Christina Manolis, BJ '11, journalism adviser, Washington High School.
Beth McClure, BJ '04, director of The Literacy Project at The Gathering UMC in St. Louis.
Ryan McClure, BJ '03, executive director for Gateway Arch Park Foundation in St. Louis.
Mary Prichard, BJ '04, adviser at North Kansas City High School.
Rachel Robinson, BS '10 Agricultural Journalism, communications manager for the American Angus Association, headquartered in Kansas City.
Brian Yamada, BJ '93, chief innovation officer for global brand agency VMLY&R, headquartered in Kansas City.
Other presenters include award-winning advisers from high school journalism programs around the state and a solar system ambassador for NASA as well as speakers from Clear 99 radio, Kansas Scholastic Press Association, Missouri Press Association, the Missouri State Teachers Association, Mizzou Athletics, Niles Media and the State Historical Society of Missouri.
J-Day will conclude with an awards ceremony highlighting winners of outstanding student work. Winners of the Student Journalist of the Year, Journalism Teacher of the Year, Emerging Journalism Teacher of the Year, Administrator of the Year and the Contributing Medium Award, along with the recipients of the Taft Award and the Knight Award, will be announced.
"We look forward to welcoming these students and teachers to campus for a day of fun and learning." said Kurpius. "It's going to be an awesome experience for all."
About the Missouri Interscholastic Press Association
MIPA was founded in 1923 at the Missouri School of Journalism. It is a state organization for journalism advisers working in association with the Missouri School of Journalism, the Journalism Education Association and the National Scholastic Press Association. Membership in MIPA provides support via its website and listserv, full access to contests with valuable feedback, content to help journalism classroom instructors and a network of journalism teachers in Missouri to assist teachers and advisers at any time, plus new programs to address timely topics. Membership is by school, with the fee based on the number of publications and programs. To learn more or to join MIPA, visit www.mipajournalism.com.
Updated: November 11, 2020
Related Stories
Expand All
Collapse All
---