Missouri School of Journalism faculty named MIPA 2021 Taft award winners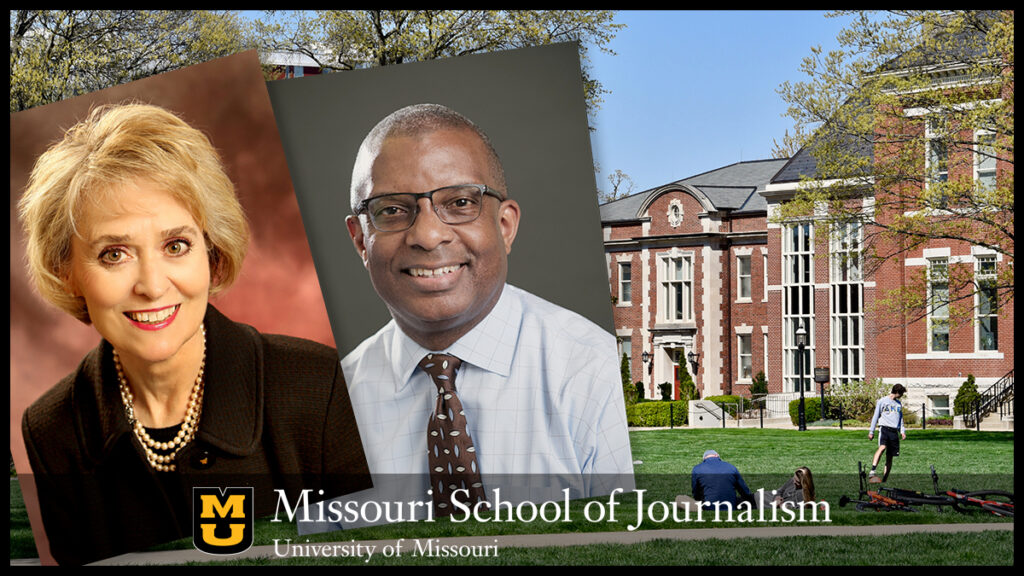 Columbia, Mo. (March 25, 2021) — Missouri School of Journalism Professor Suzette Heiman and Associate Professor Ron Kelley have been named the 2021 Taft Award winners by the Missouri Interscholastic Press Association (MIPA). 
They will be recognized as the Taft Award winners during the annual Journalism Day on Wednesday, March 31. The Taft Award is named after former Missouri School of Journalism Associate Dean William Taft for his continuing and outstanding service to scholastic journalism.
Heiman and Kelley have been co-executive directors to MIPA since 2017. In this role, they work closely with the organization's board and members, as well as students, to strengthen scholastic journalism throughout Missouri.
Heiman is a recognized leader and professor in strategic communication. She assists with the School's recruitment efforts and previously directed the office of planning and communications.
Kelley is the School's executive director of the Student Development, Diversity and Inclusion Program. The program works to recruit, retain and engage diverse students from high school to college and into the profession and partners with industry, academic leaders and alumni. Kelley also oversees the School's high school summer workshop program and teaches the course cross-cultural journalism.
According to MIPA, since becoming executive directors, Heiman and Kelley embody the word "outreach" in so many ways. A few recent examples of their work include:
Heiman suggested and helped the MIPA board of directors find innovative new ways to market the organization, reach teachers and administrators statewide, and network with professional journalists and their organizations, as well as sharing learning opportunities both on the University of Missouri campus and around the state.

 

When MIPA celebrated its 95th anniversary and held its 50th Annual Journalism Day, Heiman was instrumental in having those monumental occasions recognized by politicians statewide and on the MU campus, as well as organizing events for journalism teachers to meet and collaborate.
In the last couple of years, Kelley worked to update the summer scholastic journalism workshops offered to students statewide. His work on diversity and inclusion has created fresh opportunities for student journalists.

 

Kelley has worked with the team producing journalism curriculum for use by Missouri teachers, as well as around the world.
Additionally, during the past year both Heiman and Kelley have been 'instrumental' in assisting MIPA in pivoting to meet the changing needs of journalism educators and students statewide due to COVID-19.
In their decision, judges wrote, "Suzette and Ron are some of the biggest supporters of scholastic journalism in Missouri. They are always looking for opportunities to reach more Missouri students, and they are willing to go above and beyond in order to promote scholastic journalism across the state."
About MIPA
MIPA was founded at the School in 1923 to promote journalism to Missouri's middle and high school students and teachers, a mission the organization still serves today. The state organization works in association with the Missouri School of Journalism; Journalism Educators Association, JEA; and the National Scholastic Press Association, NSPA; for advisers in the state of Missouri.
Updated: March 25, 2021
Related Stories
Expand All
Collapse All
---