Humans of Strat Comm: Razia Hutchins
Columbia, Mo. (Oct. 22, 2018) — We've all heard the golden rule. Treat others as you want to be treated. Razia Hutchins, Missouri School of Journalism student and founder of the nonprofit "I Am for Peace" movement, lives by this rule. The passionate student leads by example, both in her hometown of Chicago and at the University of Missouri.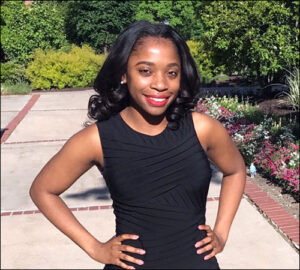 Along with studying strategic communication, Hutchins is dedicated to service through her work as a member of the National Association of Black Journalists, The Legion of Black Collegians, Delta Sigma Theta Sorority, Inc. and the National Pan Hellenic Council. In addition, she volunteers with Big Brother Big Sister and Special Olympics.
However, it's her "I Am for Peace" efforts that are her greatest contribution to date. The "I Am for Peace" movement focuses on advocating for peace and reducing the use of violence. Hutchins was inspired to start this movement after the following question was posed in one of her high school classes: What if you were the next victim of gun violence?
"It felt like anything could happen to you – anywhere at any time," said Hutchins. "We have to do something."
So Hutchins, along with peers and supporters, marched for peace through the streets of Chicago. She explained that there were many believers that pushed her along the way. Kids even came to her and said they were inspired to create change in their community.
By 2015, Hutchins inspired over 3,000 people to march with her for peace. To date, the movement has spread across the country and beyond to South America and Africa.
She believes the "I Am for Peace" movement gained the attention that it did because it wasn't focused on elders speaking to a younger generation.
"It was our generation speaking to one another," explained Hutchins. "There's something really powerful about that."
The movement was so impactful that it caught the attention of WE, a global charity organization dedicated to inspiring young people. Every year the WE Foundation hosts WE Day, which Hutchins describes as the MTV awards for young leaders. The passionate MU student was asked to speak at the 2017 WE Day Gala.
Hutchins was honored to speak at the event because there were so many influential people with one thing in common – to create peace by inspiring young leaders and showing young leaders the support system around them.
In addition, Hutchins had the opportunity to introduce Tom Wilson, CEO of Allstate, where she worked as a corporate social responsibility intern.
An unforgettable moment happened for Hutchins when her father saw her speak on stage at the event. She explained that her father grew up in West Chicago at a time when gang violence and drugs were prevalent.
"He didn't go to college and puts me and my brother through school," she said. "It was awesome for him to see the fruits of his labor when I was on stage."
The passionate student hopes to run her own non-profit one day and take children from inner cities on trips across the nation.
"I want inner city kids who don't have the necessary resources to be able to travel and experience life outside of their neighborhood," said Hutchins.
She believes that peace comes in many different ways. The important thing is to stay true to yourself and never let others discourage you.
"You'll learn along the way that not everyone's vision matches yours, and that's OK," said Hutchins. "Stay true to your vision and yourself."
Updated: November 5, 2020
Related Stories
Expand All
Collapse All
---