Humans of Strat Comm: Emily Bathe
Columbia, Mo. (March 25, 2016) — Senior strategic communication student Emily Bathe loves all things social media. Last summer, she put her passion for social media to work, managing accounts for Angie's BOOMCHICKAPOP, a healthy and all-natural popcorn snack during her internship at FRWD, a digital advertising and marketing agency in Minneapolis.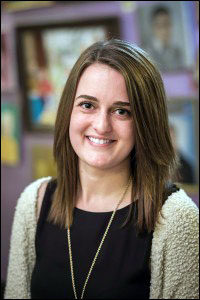 Emily had previously immersed herself in the digital world during a study abroad trip to London in 2015, where she worked at a boutique fashion PR firm called Platform Creative.
"I absolutely loved living and working in London during my study abroad trip," Emily said. "I got to learn about the history and explore many new cities and neighborhoods, and I was also able to gain insights into how strategic communication is practiced abroad. I made great friends and saw so many beautiful sights during my four months abroad, and it was truly an irreplaceable life experience that I will always remember."
This spring, as she completes her strategic communication classes and wraps up her art minor, Emily is also working as a social media strategist for MOJO Ad, where the class is developing campaigns for their client, BENGAY.
During her free time, Emily loves dancing along to Beyoncé's latest hit, indulging her cheese cravings, and staying up-to-date with all of the latest Snapchats, Tweets and Instagram posts. She also serves as vice president of public relations for Relay For Life of Mizzou and oversees all social media and promotional efforts for the student organization.
Emily hopes to move back to Minneapolis following graduation in May 2016 and work as a social media manager or strategist at a local advertising agency. Even though she has crossed getting her degree, traveling the world, and mastering the latest social media trends off her list, Emily is confident that other strategic communication students can also forge their own path to success.
"My advice would be to seize every awesome opportunity that comes your way," Emily said. "Don't be afraid to take on something new or to ask for help when you need it. You never know when one of your greatest challenges might become one of your most memorable learning experiences."
Updated: September 22, 2020
Related Stories
Expand All
Collapse All
---