Humans of Strat Comm: Sydney Olson
Columbia, Mo. (July 6, 2016) — Sometimes being different is what creates life-changing experiences. For senior Sydney Olson, the difference came with her path within the strategic communication world. While most of her friends dream of being employed at some of the top advertising agencies, Sydney dreams of working on the client side – preferably in health or nonprofit.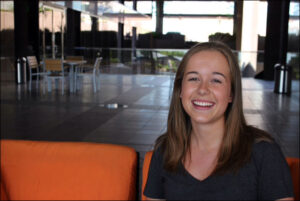 Sydney always knew she wanted to have a career that would help her make a difference, but figured it had to be done with a medical degree. After doing a bit of research, she realized that there was another way to achieve her goals in the health and nonprofit industry – strategic communication.
"It took me time to realize I can help people in the way I want to without being a doctor," Sydney said. "I can do the 'helping' part of healthcare without the medical health part. I can use my specific talents, interests, and education to help in a different but equally essential and important way."
This summer, Sydney is taking her first step toward her dream by working for the Make-a-Wish Foundation, a nonprofit organization in the United States that is known for arranging experiences known as "wishes" to children suffering from life-threatening conditions. Sydney will serve as a chapter support and development intern in Phoenix. She is in charge researching the nonprofit industry, developing resources and tools in the area of fundraising and leadership and building reports and supporting project work plans all while eating a lot of Blue Bunny Ice Cream, a sponsor of Make-a-Wish.
"I had been involved in Make-a-Wish in high school and our college chapter here at Mizzou, so I knew some about the organization and what it was all about," Sydney said. "[When] I narrowed it down to nonprofit and healthcare public relations. I started volunteering at hospitals, working at the Ronald McDonald House and doing a lot of research on different Make-a-Wish chapters. The premise behind wish granting is that a wish can be a game changer for children, and the families of children, battling life-threatening medical conditions. It was exactly what I wanted to do."
One thing Sydney won't be doing while at Make-a-Wish is exercising her inner designer. She knows there are a lot of paths one can take with a strat comm degree and knows where her strengths lie.
"I also am probably the least artistic J-School student you will ever meet," Sydney said. "[I have the] artistic ability of a kindergartener. You have to find your niche and take it one day at a time."
Sydney's process of gaining an internship with such a well-known company did not come easy. There was a point in Sydney's process where she applied to at least one company a day for the span of two weeks, many of which she didn't hear back from. Eventually though, it paid off.
"Apply, apply, apply," Sydney said. "There's an unbelievable amount of opportunities out there, which [is] a little overwhelming but also reassuring."
Sydney's message to other J-School students is to dare to forge your own path. Find your calling and become an expert at it. It can be hard to break into the industry, but through resilience and persistence, you may end up with a career that was once upon a time just a dream.
Updated: September 29, 2020
Related Stories
Expand All
Collapse All
---