Alumni Profile: Sarah D'Amico
Columbia, Mo. (March 6, 2017) — Sarah D'Amico has had a passion for helping children for as long as she can remember, so of course, she naturally fit right in at Make-A-Wish. As a digital content coordinator for Make-A-Wish Illinois, Sarah helps forward the foundation's mission of providing wishes to children with life-threatening medical conditions. She's part of a team that brightens children's lives during their hard times.
Sarah's path toward Make-A-Wish began when her older brother was granted a wish to go to Disney World in 1992 while battling leukemia. This cemented the good possible by the organization in the back of her mind. While attending the University of Missouri and pursuing her bachelor of journalism degree with an emphasis in strategic communication, Sarah focused much of her free time as director of Camp Kesem Mizzou. Camp Kesem is a nationwide organization that supports children through and beyond their parent's cancer by operating free summer camps and providing peer-support networks. She found her time with Camp Kesem so inspiring that after graduating, she knew she wanted to stay in the nonprofit world where she could continue to help people.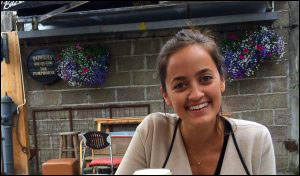 "I can't say enough good things about my choice to major in journalism with an emphasis in strategic communication," Sarah said. "There was a friendly, competitive atmosphere from day one that I really thrived in. When my current position opened up and I read the job description, I was completely confident in my ability to fulfill the role because of the variety of skills I gained through my strategic communication classes."
Immediately after graduation, Sarah moved to Phoenix to intern for Make-A-Wish America. She loved it there but, as a Chicago native, Sarah wanted to move closer to home. She got a job working as the marketing operations coordinator for Feeding America, which is a United States-based nonprofit organization that is a nationwide network of more than 200 food banks. While working for Feeding America, Sarah volunteered for Make-A-Wish in her spare time until she learned about a job opening for a digital content coordinator. Having been at Make-A-Wish Illinois for more than two years, Sarah has found that her job lets her do a little bit of everything in the digital world including social media, graphic design, website, email marketing, video production and more. A lot of her time is spent creating content for Make-A-Wish social media channels and tracking and analyzing digital metrics to guide future content. But her absolute favorite part is getting to help with wishes.
"My favorite part of my job is getting to be in-person while wishes are being granted and sharing on social media in real-time," Sarah said. "My favorite wish would have to be the first one I helped grant. It was for a little boy named Paul who was battling leukemia. As soon as we met him, he knew exactly what his wish would be – a puppy!"
Sarah loves her job at Make-A-Wish and the people that she works with. Her piece of advice for current students; don't compare yourself to others. Sarah says this is easy to do in the competitive atmosphere of the J-School, but as long as you focus on where you want to go and your passion you can reach your dream job, just like she did at Make-A-Wish.
Updated: October 13, 2020
Related Stories
Expand All
Collapse All
---