Alumni Profile: Christianna Weiss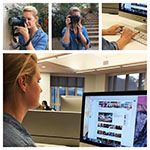 Columbia, Mo. (Sept. 11, 2016) — Poet Robert Frost once wrote about taking the path less traveled. That's a concept Christianna Weiss has been living her life by during the last year and that path led her to the Rio Olympics.
At the beginning of her senior year, Christianna found herself questioning what she wanted to do with her life. She knew she had a passion for photography, videography and production. So she decided that she wanted to find some experience outside of strategic communication, so she ended up as a production assistant at KOMU working for News Director Randy Reeves. At KOMU, Christianna learned to edit video and complete projects under a short deadline. She also received several emails from Reeves about job opportunities, including one with the subject line "Rio 2016 Olympic Make-A-Wish Opportunity."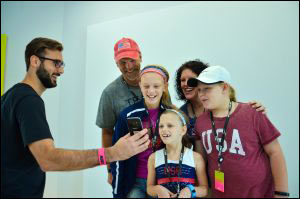 However, instead of opening the email, she deleted it.
It was only weeks later when going through her deleted emails during her Advanced Promotional Video class with Prof. Jim Flink that she stumbled across the email again.
That led her to the experience of a lifetime this summer as a freelance videographer/photographer and editor for the Make-A-Wish Foundation. Christianna said that Make-A-Wish was originally looking for a broadcast student, but because of her strat comm background with video and photography skills, she stood out in the crowd.
In Rio, she was in charge of capturing children with life-threatening medical conditions who were at the Olympics with their families. She would then select and edit the footage and send it to local and national news stations. Her work on the children's stories was featured on the Today Show as well as NBC New York, NBC Los Angeles, NBC Chicago, and KSDK in St. Louis along with other media outlets. Getting to tell the stories of the children's wishes was something Christianna said she will never forget.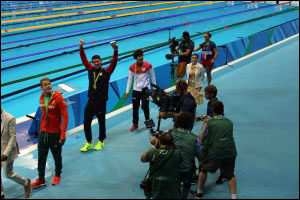 "Watching the families come to the Olympics after what they have been through was the most rewarding experience of my life," Christianna said. "The smile on a young boy's face who battled leukemia as he [watched] Michael Phelps win his 22nd gold medal and the smile on a young gymnast's face who battled a rare cancer as she [watched] Simone Biles perform her floor routine is something that I will treasure for the rest of my life. Seeing the families forget about sickness and just enjoy the moment was so wonderful to see. The smiles were so genuine, and they were so full of love for each other and the opportunity of a lifetime they were experiencing together."
Because of this success on the path less traveled, Christianna recommends that students get involved in as many aspects of the journalism school as they can.
"Take a photography, videography, writing, graphic design class…even if it's not in your interest area. Who knows, it may just lead to your dream job," Christianna said.
Updated: October 1, 2020
Related Stories
Expand All
Collapse All
---