Jim Flink
Associate Professor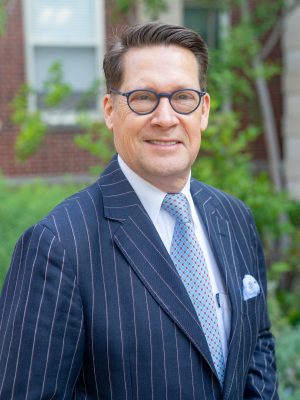 Download High-Resolution Photo
140-J Walter Williams Hall
Missouri School of Journalism
Columbia, MO 65211-1200
Education
B.A. in political science, Westminster College
M.A. in journalism, University of Missouri
Areas of Expertise
Audience Research
Augmented Reality/Virtual Reality
Media Management
Visual Journalism
Jim Flink is an Associate Professional Practice Professor of Strategic Communication at the Missouri School of Journalism. In that role he teaches four core undergrad courses and four distance-learning graduate school courses, focusing on emerging technologies, changing media business models, digital strategies, content marketing, sports journalism, and the capstone experience, AdZou. Additionally, Jim is part of the core certificate faculty in Graduate Studies at the Missouri School of Journalism.
Flink teaches courses across multiple disciplines and schools, focusing on emergent technologies and techniques. His coursework on emerging tech covers the gamut — AI, Immersive Media, Drones, GoPro and more. He also teaches a course in content marketing, partnering with a professional collaborator in Cincinnati for more than six years.
Jim is also a consultant with the School's Reynolds Journalism Institute and works extensively with MU Journalism Abroad, traveling, for example, to places like San Diego as a health communications consultant; to Kazakhstan to train mid-career journalists on new tools, techniques and technology; to London to lead the study abroad program there for the summer; and across Missouri and the world as a trainer and educator for Mizzou Extension, MUJA, RJI and for various grants.
He is also co-lead faculty at Mizzou in establishing an Innovation Lab at the Trulaske College of Business as part of his work with the MU Institute for Experiential Education, Innovation and Entrepreneurism, partnering with AT&T to bring 5G to the Mizzou campus in the form of a laboratory that is open to students, faculty, staff and myriad start-up and early emergent growth companies. As a founding faculty member at the Institute, Jim has created and nurtured professional collaborations with AT&T, Roche, Mastercard, IBM, The Thompson Center for Autism and Neuro-developmental Disorders, with start-up incubators Mission Control, FlyOver Media and others.
From 2010-2014, Flink served as vice president of news operations and general manager of Newsy where he led, coached and cultivated a young start-up newsroom into an established, internationally respected newsroom publishing quality video content on emerging digital platforms. Under his leadership, Newsy delivered highly-engaging, timely, scalable content for iOS, Android, Windows, Blackberry and Web for partners such as MSN, AOL, Huffington Post, Mashable and more. Newsy also won the 2011 "Appy" for Best in News, beating out CNN and Flipboard, and the 2013 "Appy" for Best in iPad Publishing.
Flink worked for Kansas City's KMBC-TV from 1995-2010, serving as a primary anchor and reporter for the most-watched ABC affiliate in America. His work has been featured on "Larry King Live," ABC's "Good Morning America," CNN News, BBC, and in documentaries and film. Jim has also won many awards: Emmy, Murrow, AP, Sigma Delta Chi, Missouri and Kansas Broadcasters and many more. Flink has international journalism experience, working for the Korean Broadcasting System, UNESCO and guest teaching in The Philippines.
Flink received his bachelor of arts degree in political science from Westminster College and his master's in journalism from Missouri. In 2010, he was awarded the Lifetime Alumni Achievement Award from Westminster College in Fulton, Missouri.
Updated: September 20, 2023