Fall 2018 Graduates Wrap Up With Impressive Work Through The AdZou Capstone
by Emily Cook
Columbia, Mo. (Dec. 20, 2018) — It comes as no surprise that the Missouri School of Journalism employs the Missouri Method – learning by doing – in the senior capstone. This semester, six student teams completed the AdZou capstone as part of the strategic communication program.
AdZou is a full-service, student-staffed agency that works with real-world clients to produce strategic campaigns related to a specific ask. Student teams work together on the campaign all semester and present their work to the client during their last week or so as Mizzou students.
This semester's clients were Baldness Doctor, Missouri Society of Radiologic Technicians, MU Office of Sustainability and Zoetis.
Jim Flink, assistant professor and AdZou instructor, was impressed by his student's work this semester.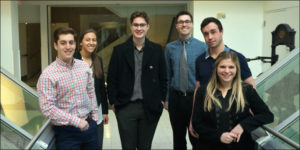 "Our AdZou groups tackled four very different clients. It's fascinating how the research our teams perform informs the strategy and tactics we recommend for these clients," he said.
Flink described this year's AdZou campaigns as powerful and creative and believes that if implemented, will deliver results.
Katy Alexander knows this first-hand from working on a campaign for Zoetis, a $5 billion company that is the largest producer of medicine and vaccinations for pets and livestock.
Serving in the public relations role for her AdZou team, she and the other two teams on the project were tasked with promoting the company's newest vaccine for horses.
"I really enjoyed getting to learn so much about a company and an industry that I would have never known about otherwise," said Alexander.
In addition to conducting eight weeks of research and acquiring a substantial amount of industry knowledge, Alexander also got to apply her passion for writing.
"I love to tell stories, and my ultimate career goal is to take that passion and help companies create meaningful messages that resonate with their audiences," said Alexander. "This is exactly what I got to do for Zoetis in this capstone – organize all of our research, strategies and ideas into one cohesive narrative around its product and brand."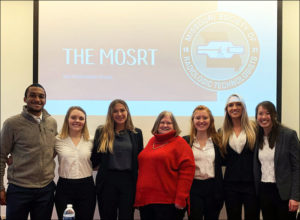 Another student, Cassie Li, was also appreciative of her AdZou experience which saw her in the graphic designer role. Li was responsible for the creative execution which included creating a website, flyers, emails and designing the plan book. In addition, she was able to sharpen her copywriting skills. As much as she enjoyed creating the look of the campaign, she found the team dynamic was the magic ingredient to a great campaign.
"I was blessed to have worked with a great team. Everyone communicated really well together and did their part, respecting each other's roles on the team," said Li.
The talented creative confirmed that the work she completed in her capstone aligns with her future goals, which are to work either in-house or at a creative agency.
Li's favorite part of the AdZou experience was holding the plan book after dedicating many hours to it this semester.
"It was really cool because our client recognized how elaborate and in-depth it all was and expressed a lot of gratitude and appreciation for how much work went into creating the book," she explained.
The AdZou capstone was the end to a great Missouri School of Journalism experience for both Alexander and Li.
"Enjoy this experience and soak it all in because it really is one in a million," Alexander concludes.
The full list of student teams that completed the Fall 2018 AdZou capstone is as follows:
Chameleon Group: Alexa Beckwith, Katie Graves, Cassie Li, Natalie Schmidt, Austen Tealer, Patrycja Wardynski
Nexus: Bailey Conrad, Paige Limbaugh, Cole Moog, Kayla Myers, Nicole Newman, Anny Xu, Becca Zeiger
Saddle Up: Dallas Ernst, Junrong Li, Jack Miller, Alexa Norwald, Will Padilla, Davis Patrick, Joseph Yeager
Strategic Catalyst: Haley Besler, Melicia Cates, Skyler Everson, Connor Kramer, Dan Noonan, Tyler Riley
Syzygy: Asher Alt, Cal Lanouette, Zach Moreland, Layne Silverman
Your Dad's Friend Agency: Katy Alexander, Patrick Bowey, Even Campbell, Drew Grossman, Shane Kjellenberg, Bailey Youngs
Updated: November 6, 2020
Related Stories
Expand All
Collapse All
---