AdZou teams present findings to clients over Zoom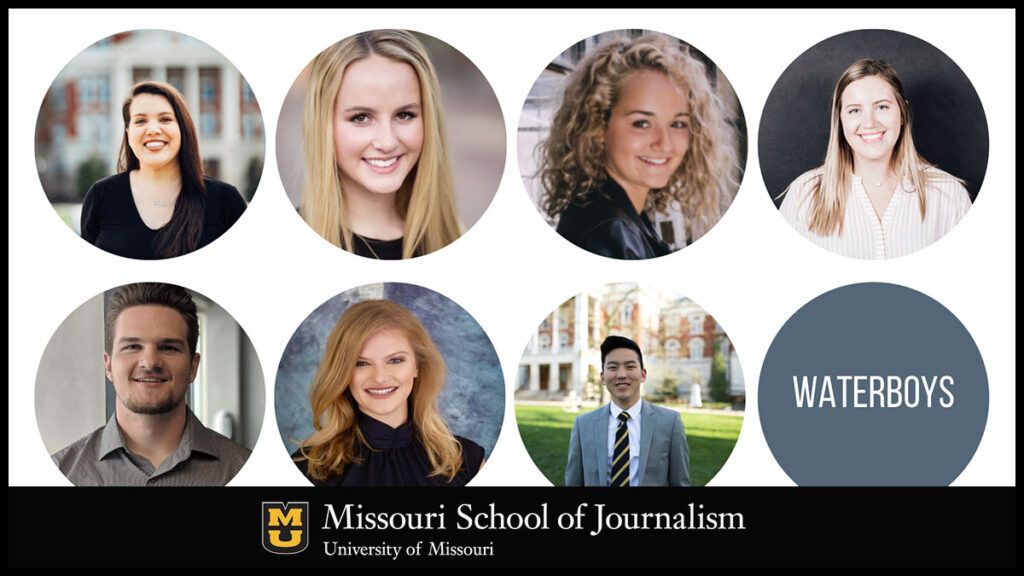 Team Waterboys: Top row, from left: Chelsea Roemer, Erin Popielewski, Katherine Musacchio, Emma Fordyce. Bottom row: Ben Schlueter, Rachel Brunts James Yoon.
Even though the final presentations were different, the work and dedication were the same as other semesters, just virtual.
By Jerry Duggan
Columbia, Mo. (May 18, 2020) — Every semester has its ups and downs, but the spring 2020 semester presented a challenge that AdZou students had never had to adapt to before: all classes moving online halfway through the semester due to concerns about the spread of COVID-19.
Still, AdZou groups remained committed to putting together high-quality work for their clients which included Fox Sports, University of Missouri School of Law, Tobacco Free Missouri and Boone Hospital Center, among others.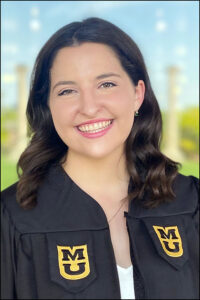 Final client presentations were all done over Zoom in lieu of the traditional in-person format.
Of the 22 AdZou teams, 16 presented live over Zoom while six recorded their pitch to be viewed by clients as their schedules permitted. Even though the final presentation format may have been different, the work and dedication leading up to the presentations were the same as other semesters, just virtual.
"It was sometimes difficult to brainstorm ideas over Zoom, especially when it came to something like social media, but my group was really good at always finding time to meet, even remotely," said Sydney Schack, a media planner for the School of Law team, 2020 Vision. "Our lab instructor, Jim Flink, was really good at meeting with us as often as we needed to and making sure we all stayed on task, only working on things that would help us answer the client ask."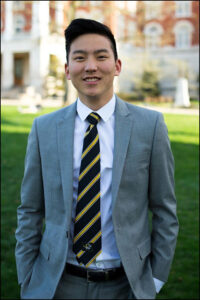 Since it can remain difficult to maintain the same level of focus the account executives, who are essentially the student leaders of each team, worked in conjunction with the lab instructors to ensure deadlines were being met. For Waterboys, whose client was Fox Sports team, the move to remote learning was abrupt, but manageable. They were asked to help generate greater awareness for the network's new pregame show, Big Noon Kickoff.
"Things were hectic for a little bit, because we didn't really know what remote learning entailed with our capstone," said James Yoon, an account executive for Waterboys. "However, we knew we were still presenting, so we had to keep working despite the unusual circumstances."
Indeed, lab instructors were impressed with the students' determination in the face of a difficult transition. "I've had at least two lab instructors touch base with me as we near the presentation dates to tell me how impressed and excited that they are about what students are getting ready to present to clients," said Holly Higginbotham, associate professor of strategic communication and director of the AdZou program. "It's every bit as strong as what students deliver in a 'normal' semester."
What's more, Higginbotham added that the difficulties students have had to overcome with regard to remote learning provide great preparation for what they will soon find in the workforce after graduation.
"I've talked to many industry professionals who are having to work the same way right now, meeting remotely with their teams to get the client work done," Higginbotham said. "Everything our students have had to do is exactly what is happening in the industry. So, it's great practice for our students to have to switch gears from normal and find new ways to keep projects moving forward."
Updated: November 12, 2020
Related Stories
Expand All
Collapse All
---