AdZou partners with Fox Sports to create advertising campaign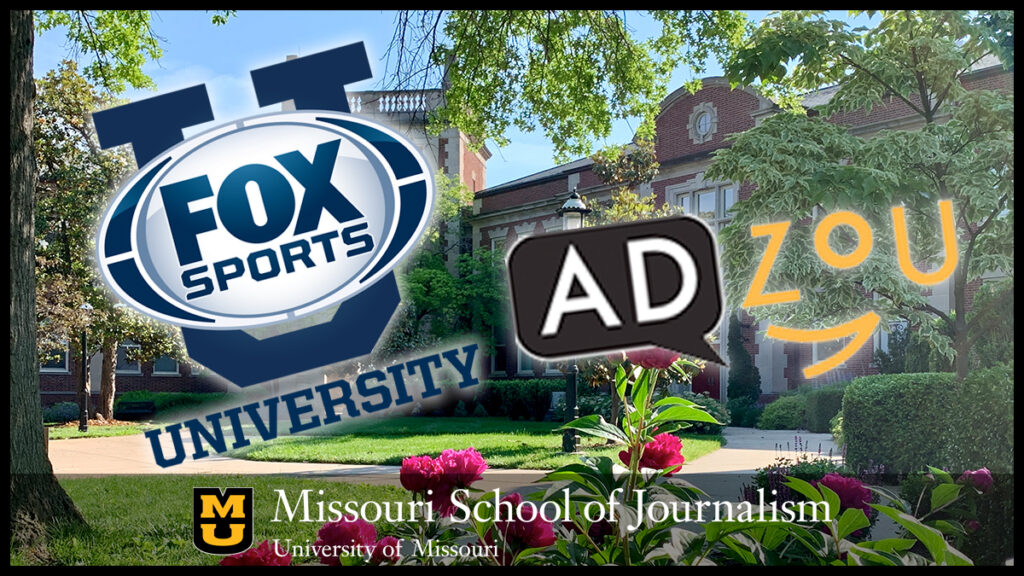 Students were asked to create on-air, digital and out-of-home tactics, letting their creativity fly.
Columbia, Mo. (July 21, 2021) — AdZou students working with Fox Sports during the 2021 spring semester were given a once-in-a-lifetime opportunity: to create an advertising campaign for the newly branded Fox Corporation.
For the past 11 years, the Missouri School of Journalism's AdZou agency has partnered with Fox Sports to create a unique and unforgettable experience for strategic communication students, typically involving a campaign for a sporting event or a sports property, like Major League Soccer or boxing. This year's challenge revolved around the question of how to align FOX Sports within its larger parent company, FOX Corporation, a company birthed following an industry-rattling deal with The Walt Disney Company that closed March 2019. In this deal, FOX sold the 21st Century FOX Film and TV studio and the regional sports networks, resulting in Fox Corporation consisting of FOX Sports, FOX News and FOX Entertainment (live television). Within an exciting time of change for the company, the opportunity for a new corporate voice and brand identity exist, and thus became the question for the students' challenge this spring.
To answer that question, students across four teams — Phoenix Media Group, Ocho Media Group, Show Me Media and Team Fortify — worked directly with the Fox market research team to complete quantitative research about viewers and brand perceptions.
"This led to a very directed advertising campaign," said Scott Fuenfhausen, the adjunct instructor who teaches the Fox Sports AdZou lab. "It took the 'Mizzou Method' to a whole new level."
With the help of Fox Corp market research, students found that viewers across all age groups describe Fox as a reliable option for sports. While it isn't the consumer's first pick, Fox Sports has a large audience and consistently has the second most viewers out of all network sports channels, behind only ESPN. They found that viewers are looking for honest and quality sports footage and commentary, focused mostly on the NBA, NFL and college football and will go wherever they need to in order to get it.
Based on the research done by the AdZou teams, each team chose the target audience they believe best fit the Fox Corp brand and created campaigns to keep current viewers happy and attract new viewers. Students were asked to create on-air, digital and out-of-home tactics, letting their creativity fly. Some of the ideas included creating QR codes to download the Fox Sports app, replacing bus stop benches with stadium seats along with a promotion to win seats at the next local sports event and a Snapchat Geotag to demonstrate how viewers are fulfilling the Fox Sports promise.
For example, Team Fortify based its advertisements around the tagline "Live in the Loop." The concept behind this big idea was that Fox Sports would always keep viewers informed about all their favorite sports.
"First and foremost, 'Live in the Loop' that's really good," said Kevin McMahon, vice president of Strategies & Creative Partnerships at Fox Sports, of the Team Fortify campaign. "Bringing that as a thread throughout and emphasizing through the Fox Sports app is fantastic."
The campaigns created by the teams weren't limited to any specific sport, but were meant to create a cohesive narrative that Fox Corp could use year-round rather than just during one season.
"That was the closest experience I've had to an internship," said Alexandria Harlow, copywriter for the Ocho Media Group. "The pandemic stripped a lot of opportunities away last year, so I was a bit nervous going into the job field at the time. Now, after working with a student-run agency and with such a renowned brand, I feel more confident in my skills and abilities to accomplish the expectations that companies have when they hire me."
The greatest challenge students faced was working as a team remotely. The majority of the project was conducted over Zoom, including team meetings and meetings with Fox Sports officials. With differing class and work schedules, teams struggled to hold meetings where every member was present, which took a toll.
"The pandemic was such a huge stress on our classmates' mental health," said Brad Gale, digital strategist for the Ocho Media Group. "I think coming together for the Fox Sports project both was a challenge and something we could unite around to help support each other in the work and mentally."
In the final three weeks, each team of eight was able to meet in person with Fuenfhausen to go over the final details of the project and talk about the experience as a whole. Even though it was a difficult project, students were proud of the pitches they created and the experience they gained.
"Obviously it was stressful throughout, but my team powered through and helped each other any way they could," said Harlow. "So, to see how it all came together and to see how impressed Fox was with all of our campaigns, it was really rewarding."
Fox Sports Lab Teams and Positions
Phoenix Media Group
Account Manager: Kate Westberg
Strategist: Supreet Bhangu
Copywriter: Lindsey Whitmore
Graphic Designer: Peyton Rives
Digital Strategist: Riley Girardier
Media Planner: Emma Grossman
Public Relations: William Heckel
Video: Gannon Rushall
Ocho Media Group
Account Manager: Paige Kasten
Strategist: Carly Stilwell
Copywriter: Alexandria Harlow
Graphic Designer: Madi Dick
Digital Strategist: Brad Gale
Media Planner: Claudia Conness
Public Relations: Kathryn Ahern
Video: Will Davis
Show Me Media
Account Manager: William Finke
Strategist: Katherine Workman
Copywriter: Haley Shipley
Graphic Designer: Delaney Fenton
Digital Strategist: Mary O'Leary
Media Planner: Alexis Godsey
Public Relations: Lindsay McKenna
Video: Diego Galicia
Team Fortify
Account Manager: Paige Powell
Strategist: Frederick Trask
Copywriter: Pharis Sippel
Graphic Designer: Mia Napolitano
Digital Strategist: Aaron Ross
Media Planner: Molly Freudenberg
Public Relations: Ethan Triebsch
Video: Jocelyn Racelis
AdZou
AdZou is based on the "Missouri Method" of learning by doing. Directed by public relations, advertising and marketing professionals, graduating Missouri School of Journalism seniors work in small teams to bring fresh perspectives to their research-based campaigns for real fee-based companies or organizations.
Updated: July 21, 2021
Related Stories
Expand All
Collapse All
---