AdZou Wins First FOX Sports University Intercollegiate Competition
Team's Market Research, Ideas for FOX Sports Flagship Show Beat Out 3 Other Universities
Columbia, Mo. (June 10, 2015) — An AdZou team is the winner of the first-ever FOX Sports University intercollegiate competition, FOX Sports officials recently announced. AdZou is a strategic communication capstone course at the Missouri School of Journalism.
"The students at Mizzou were the most creative, forward thinkers. The presentations were clever, smart and sometimes comedic. One group even had two students dressed to look exactly like our anchors, Jay Onrait and Dan O'Toole. Most importantly, the ideas were sound, realistic and based upon impressive research," said Jason Cahill, coordinating producer of FOX Sports Live.
The winning group, Pick Six – comprised of Colleen Barry, Michelle Hantak, Bryndon Mintor, Sarah Morris, Jordan Santo and Luke Wiersma – will be invited to attend a live production of FOX Sports Live in Los Angeles and meet with executives from FOX Sports this summer.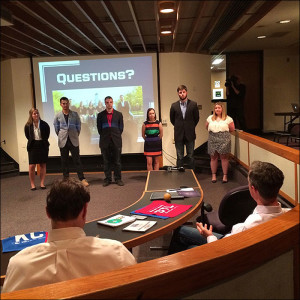 In the spring semester, Missouri and three other universities were challenged to present fresh, out-of-the-box ideas to engage millennials interested in sports highlights and news shows. Students were to watch, research and provide insights from their peers on FOX Sports Live, FOX Sports 1's flagship sports news show. The nightly show combines highlights, breaking sports news and analysis with a touch of humor.
This was the fifth year adjunct professor Scott Fuenfhausen guided AdZou students in projects for FOX Sports University, a nationwide program that now spans 28 universities, providing real-world challenges that touch FOX Sports businesses.
Competition for the seats in the FOX Sports University section of the AdZou course was high.
"We implemented an application process and received double the amount of applications we had seats for," said Fuenfhausen. "It's an unbelievable experience for the students. I am thrilled to work with FSU every single year."
At the end of the semester each group presented their findings and recommendations in creative and entertaining formats to a panel of FOX Sports executives, including Cahill; Michael Mulvihill, senior vice president of programming, research and content strategy; and Kaitlyn Beale, manager of strategic partnerships. Mulvihill earned his bachelor of arts degree in communication from the University of Missouri in 1994.
"As a Mizzou alum I could not have been prouder of the quality of the work that we saw, the creativity the students brought to the projects or the fearlessness of their presentation," Mulvihill said. "I'm thrilled that Mizzou is participating in FOX Sports University and congratulate all the groups on their tremendous work."
Updated: September 8, 2020
Related Stories
Expand All
Collapse All
---